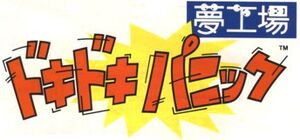 For detailed information about this series, see: Doki Doki Panic at Super Mario Wiki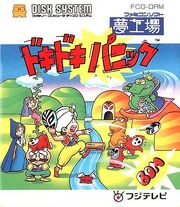 Yume Kojo: Doki Doki Panic is a Japan-only video game developed by Nintendo in cooperation with Fuji Television and released for the Famicom Disk System on 10 july 1987. It features Imajin, mascot of the Yume Kojo event at the time, along with the other members of his family: Lina, Mama and Papa as the other selectable characters.
The only known merchandise released for this game is a Yume Kojo: Doki Doki Panic Telephone Card, featuring the images of Imajin and Lina, along with Mario and Peach from the Mario series.
The game was later modified and released outside Japan as Super Mario Bros. 2 in 1988.
Links to other series
Note: here will only be listed cameos of elements from Yume Kojo: Doki Doki Panic if are references to the original game. Appearances of elements originally from this game, but in reference to Super Mario USA will be listed in the Mario series' page.
| Direction | Series | Date | Description | Type |
| --- | --- | --- | --- | --- |
| | Mario | | Yume Kojo: Doki Doki Panic features elements from the Mario series; Being a clone of Doki Doki Panic, Super Mario Bros. 2 (USA) features the same enemies and levels from that game. | 1 |
| | Wario | | Wario Land II features a treasure based on the Big Face item from Yume Kojo: Doki Doki Panic. | 3 |
| | Super Smash Bros. | | Birdo's trophy in Super Smash Bros. for Wii U mentions Doki Doki Panic. | 2 |
| | Angry Video Game Nerd | | Angry Video Game Nerd II: ASSimilation features a level called "Dookie Dookie Panic". | 3 |