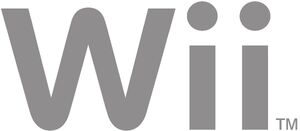 For detailed information about this series, see: Wii series on Wikipedia
Wii games, also simply known as Wii, and sometimes improerly as the Mii series, is a series of simple video games developed by Nintendo for the Wii and Wii U consoles, most of them starring the customizeable player's avatar called Mii. A recurring location in the series is Wuhu Island, a place first shown in Wii Fit jogging modes, called "Wiifity Island", where the player's Mii can walk around it, and later better defined and renamed in Wii Sports Resort. It also returns in jogging and cycling modes in Wii Fit Plus.
Nintendo Wii games
Wii Sports (November 19, 2006), a launch game for the console, was boundled with it in many regions, and is one of the best-selling video games of all time.
Wii Play (December 2, 2006), a game including nine minigames.
Wii Fit (December 1, 2007), a fitness game boundled with the Wii Balance Board peripheral.
Wii Chess (January 18, 2008), only released in Europe and in Japan as a WiiWare game called Tsushin Taikyoku: World Chess. Not featuring Miis or other fictional characters, it may not be considered a fictional work.
Wii Music (October 16, 2008).
Wii Sports Resort (June 25, 2009), sequel to Wii Sports.
Wii Fit Plus (October 1, 2009), sequel to Wii Fit.
Wii Party (July 8, 2010).
Wii Play: Motion (June 13, 2011), sequel to Wii Play, boundled with the Wii Motion Plus. It includes twelve minigames.
Wii U games
Wii Karaoke U (December 8, 2012), pre-installed on every Japanese Wii U, it was later also released in Europe.
Wii Street U (February 7, 2013), an application based on Google Street View. Not being an actual game, it might be ignored in the series.
Wii U Panorama View (April 26, 2013), an application showing video tours from around the world, with the ability to turn the camera around 360°.
Wii Sports Club (October 30, 2013), compilation of remakes of the six sports from the original Wii Sports, purchasable or rentable singularily as digital download. A retail version was released on July 14, 2014.
Wii Fit U (October 31, 2013), Wii U version of Wii Fit, still using the Wii Balance Board.
Wii Party U (October 25, 2013), Wii U version of Wii Party.
Wii Sports: series of sports games.
Wii Play: series of minigame-based games.
Wii Fit: series of fitness games.
Wii Party: series of party games.
Links to other series
Mascot link: Miis are the main characters in most games in the series.
| Direction | Series | Date | Description | Type |
| --- | --- | --- | --- | --- |
| | Golf (Nintendo) | | Nine courses from the NES game Golf are featured in Wii Sports and, along with nine additional courses from Golf Japan Course, in Wii Sports Resort. | 1 |
| | Duck Hunt | | The ducks from Duck Hunt make an appearance in Wii Play. | 1 |
| | Metroid | | Metroid Prime 3: Corruption features unlockable stickers based on Wii Sports and Wii Play. | 2 |
| | Donkey Kong | | The moving beartraps in Wii Fit may be based on Snapjaws from Donkey Kong Jr. | 3 |
| | Zelda | | The Legend of Zelda theme is playable in Wii Music, while there are minor Zelda references in Wii Sports Resort and Wii Party. | 2 |
| | F-Zero | | The Mute City theme from F-Zero is playable in Wii Music. | 2 |
| | Animal Crossing | | The title theme from Animal Crossing: Wild World and The K.K. Slider song K.K. Blues are playable in Wii Music. | 2 |
| | Pilotwings | | Pilotwings Resort is set in Wuhu Island, a location originally from Wii Sports Resort. | 1 |
| | Mario | | Mario Kart 7 features three courses set in Wuhu Island, a location originally from the Wii games; there also are minor references to the Mario series in the Wii game series. | 1 |
| | Smosh | | A parody of Wii Sports appears in Wii U Sports is Awesome!. | 3 |
| | Boyhood | | Two kids played Wii Sports Boxing in the movie Boyhood. | 2 |
| | Super Smash Bros. | | The Wii Fit Trainer is a playable character in Super Smash Bros. for Nintendo 3DS and for Wii U, with the latter also including a stage based on Wii Fit; Sebastian Tute from Wii Music and Party Phil from Wii Party also appear as spirits in Super Smash Bros. Ultimate. | 1 |