This page explains in detail the interactions between the Warriors (Koei) series and the Zelda series.
Dynasty Warriors VS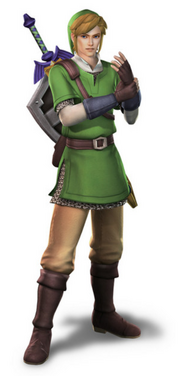 2012426 April 26, 2012

This Nintendo 3DS game only released in Japan features Nintendo-themed costumes for user-created characters, being a Link costume for male characters and a Zero Suit Samus costume for female characters.
The Link costume is specifically based on his Skyward Sword incarnation and also features the Master Sword and Hylian Shield on his back, though they're just part of the costume and can't be used.
License
As a mean of cross-promotion, Nintendo authorized the inclusion of the Link and Samus costumes in the game to promote the console.