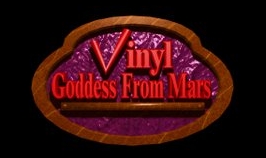 For detailed information about this series, see: Vinyl Goddess from Mars on Wikipedia
Vinyl Goddess from Mars is a platform video game released for MS-DOS in 1995 by Union Logic Software Publishing.
It stars the titular character, a beautiful woman who crash-landed on an unknown planet, and the objective is to retrieve all the components of her spaceship.
The game started development as Jill of the Jungle II, but Epic Games later decided not to publish the project, so its plot and graphics were sligthly altered. For this reason Vinyl Goddess from Mars is considered a spin-off of the Jill of the Jungle series.
Links to other series