For detailed information about this series, see: Video Game High School Wiki
Video Game High School, or VGHS for short, is a webseries created by Rocket Jump productions.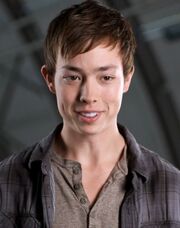 The story revolves around BrianD, an FPS player who gains entry to the titular school after defeating "The Law", an international FPS champion.
Three seasons were created, for a total of 21 episodes: Season 1, consisting of 9 episodes of 10-20 minutes each, released from May 11, 2012 to July 5, 2012; Season 2 consisting of 6 episodes of 30-45 minutes each released from July 26, 2013 to August 31, 2013; Season 2 consisting of 6 episodes of 40-65 minutes each released from October 13, 2014 to November 25, 2014.
Additionally the fictional game within the show "High School Video Game: The Video Game High School Video Game", shown in the third episode of Season 2 and recreating the events of Season 1, was made into an actual online game, and is found on rocketjump.com.
A board game based on the series was also created and released in 2014.
Links to other series
Note: the fictional game Field of Fire featured prominently through the series, is supposed to be a generic war-themed first person shooter, so eventual possible inspirations for it are not listed. The same is applied for the generic racing, RPG, fighting and RTS games shown throughout the series.
| Direction | Series | Date | Description | Type |
| --- | --- | --- | --- | --- |
| | Pong | | The Season 1 opening of Video Game High School features a reference to Pong. | 2 |
| | Tetris | | The VGHS logo features tetronimos from Tetris. | 2 |
| | Dance Dance Revolution | | The fictional game Dance Ex Machina from Video Game High School, first shown in the episode "Any Game in the House" is based on Dance Dance Revolution. | 2.5 |
| | Guitar Hero | | The Video Game High School episode "Any Game in the House" features a reference to Guitar Hero. The game Axe Legends from the series is also based on Guitar Hero. | 2 |
| | Pokémon | | The Video Game High School episode "Any Game in the House" features a reference to Pokémon. The game Pokermon from the series is also based on Pokémon. | 2 |
| | Need for Speed | | The Video Game High School episode "Any Game in the House" features a reference to Need for Speed. | 3 |
| | Marble Madness | | The Video Game High School episode "Welcome to Varsity" features a reference to Marble Madness. | 3 |
| | Grand Theft Auto | | The Video Game High School episode "Welcome to Varsity" features a reference to Tommy Vercetti; also the "Grand Theft Auditorium" is named after Grand Theft Auto. | 2 |
| | Max Payne | | The Video Game High School episode "Welcome to Varsity" features a reference to Max Payne. | 2 |
| | Mario | | The fictional game Banana Kart from Video Game High School is based on Mario Kart; also the school features a flagpole based on the level end flagpole from the Mario series and there are references to Mario in the "High School Video Game". | 2.5 |
| | Professor Layton | | In the Video Game High School episode "Double XP Weekend" is mentioned a puzzle game teacher called Professor Layton. | 3 |
| | Zelda | | The "High School Video Game" shown in the Video Game High School episode "Double XP Weekend" features a references to Zelda. | 3 |
| | Contra | | The "High School Video Game" shown in the Video Game High School episode "Double XP Weekend" features levels based on Contra. | 3 |
| | Punch-Out!! | | The "High School Video Game" shown in the Video Game High School episode "Double XP Weekend" features a level based on Punch-Out!!. | 3 |
| | Excite | | The "High School Video Game" features an Excitebike sprite as the first level icon. | 3 |
| | River City Ransom | | The "High School Video Game" features a level based on River City Ransom. | 3 |
| | Mega Man | | The "High School Video Game" features a level based on Mega Man. | 3 |
| | Tamagotchi | | The Tomowachi from Video Game High School episodes "OMGWTFPS!?" and "A Map To Sex Town" is based on the Tamagotchi. | 2.5 |
| | Warcraft | | The Video Game High School episode "OMGWTFPS!?" features a reference to World of Warcraft. | 2 |
| | PaRappa the Rapper | | The Video Game High School episode "OMGWTFPS!?" features a reference to a game called "Paropera the Opera". | 2.5 |
| | Tomb Raider | | The Video Game High School episode "Nobody Cool Goes To Prom" features a game called "Nude Raider". | 2.5 |
| | Gears of War | | The Video Game High School episode "Nobody Cool Goes To Prom" features a game called "Nudes of War". | 2.5 |
| | Wave Race | | The Video Game High School episode "Nobody Cool Goes To Prom" features a game called "Wave Rash" based on Wave Race. | 2.5 |
| | Halo | | The Video Game High School episode "Nobody Cool Goes To Prom" features a game called "Naked Halo", while the episode "Being A Teen Is Hard, I Guess" features a reference to Master Cheif. | 2 |
| | Banjo-Kazooie | | In the Video Game High School episode "The N64" a character plays the game over theme from Banjo-Kazooie on a banjo. | 2 |