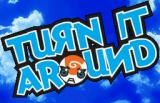 Turn it Around, sometimes also written Turn it Around!, is a minigame compilation series by Taito.
Video Games
Mawasundaa!! (February 2000). The original game for Arcades, released exclusively on Japan. Later released on PlayStation as Simple 1500 Series Vol. 66: The Kaiten Mawasundaa!!.
Turn it Around (June 20, 2007). A remake of the original for the Nintendo DS.
Links to other series
| Direction | Series | Date | Description | Type |
| --- | --- | --- | --- | --- |
| | Arkanoid | | The Arcade original and Nintendo DS Turn It Around feature Arkanoid as one of its minigames. | 2 |
| | Cameltry | | The Arcade original and Nintendo DS Turn It Around feature Cameltry as one of its minigames. | 2 |
| | Elevator Action | | The Arcade original and Nintendo DS version of Turn It Around feature a minigame called "Elevator" based off Elevator Action. | 3 |
| | Taito Harikiri Daifugo | | Mawasu-kun from the Arcade version of Turn it Around is one of the characters in Taito Harikiri Daifugo. | 1 |
| | Furu Furu Park | | Furu Furu Park is a spin-off of Turn It Around. | 1 |
| | Bubble Bobble | | Turn It Around features Puzzle Bobble characters and mechanics in the "BubBob" minigame. | 2 |
| | Battle Gear | | Turn It Around features a Battle Gear billboard in the "Skateboard" minigame. | 2 |
| | Densha de Go! | | Turn It Around features a Densha de Go! 2 billboard in the "Skateboard" minigame. | 2 |