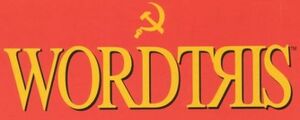 Tris is a series of puzzle video games, all of them designed by Alexey Pajitnov, most famous for the game Tetris.
Only five original games have been released:
Tetris (6 june 1984), IBM PC. It started the Tetris sub-series.
Welltris (1989), DOS. Later released for Amiga, Amstrad CPC, Atari ST, ZX Spectrum and Commodore 64.
Hatris (1990), NES.
Faces... Tris III (1991), Amiga, DOS, MAC OS.
Wordtris (1991), DOS. Later released for Game Boy and SNES.
All other games in the series are sequels to Tetris.
Links to other series
No reference ever happened to or in Welltris, Hatris, Faces or Wordtris. For the references to and in the Tetris subseries see the relative section in Tetris' page.