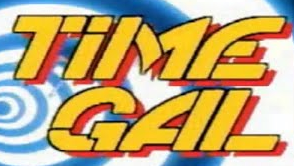 For detailed information about this series, see: Time Gal on Wikipedia
Time Gal is an interactive animated movie video game by Taito.
Video games
Time Gal (1985). Arcade. Later released on the X1, MSX, Mega CD, PC, iOS and Android.
Interactive Movie Action: Time Gal & Ninja Hayate (July 5, 1996). PlayStation and Sega Saturn. A compilation set including Ninja Hayate, Taito's previous interactive game of the same type.
Links to other series
| Direction | Series | Date | Description | Type |
| --- | --- | --- | --- | --- |
| | Godzilla | | The monster Dodzilla from Time Gal is based on Godzilla. | 3 |
| | Landing (Taito) | | Cut-outs of Reika from Time Gal in uniform were created to promote Top Landing. | 1 |
| | Puzznic | | The PC-Engine port of Puzznic features a picture of Reika Kirishima from Time Gal at the end of the Expert Course. | 1 |
| | Quiz Quest | | Reika Kirishima from Time Gal is pictured in Quiz Quest: Hime to Yuusha no Monogatari. | 2 |
| | Quiz Chikyu Boeigun | | The character Reika from Quiz Chikyu Boeigun is designed after Reika from Time Gal. | 3 |
| | Bubble Bobble | | "Timegal" is one of the random secret high score screen names in Bubble Symphony. | 3 |
| | Kyuukyoku Harikiri Stadium | | One of the players in the "Taito Planets" team from Super Kyuukyoku Harikiri Stadium 2 is named "Reika", after the main character of Time Gal. | 3 |
| | Ninja Hayate | | Interactive Movie Action: Time Gal & Ninja Hayate is a compilation including both games. | 3 |
| | Castle of Shikigami | | Reika Kirishima from Time Gal is a playable character in Castle of Shikigami III. | 1 |
| | Daifugo Party | | Reika Kirishima from Time Gal is a playable character in Daifugo Party. | 1 |
| | Elevator Action | | Reika Kirishima from Time Gal is a DLC character in Elevator Action Deluxe. | 1 |
| | Space Invaders | | Reika Kirishima from Time Gal appears as one of the characters providing assist attacks in Arkanoid vs. Space Invaders. | 1 |
| | Arkanoid | | Reika Kirishima from Time Gal appears as one of the characters providing assist attacks in Arkanoid vs. Space Invaders. | 1 |