For detailed information about this series, see: The Wing of Madoola on Wikipedia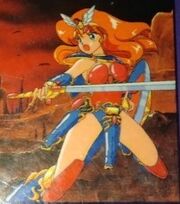 The Wing of Madoola (Madoola no Tsubasa in Japanese) is an action-adventure video game created by Sunsoft and released only in Japan for Famicom on December 18, 1986, and was also adapted into a manga for a short period.
The story stars Lucia, a brave warrior who must save the Kingdom of Badham from the evil Darutos, who has obtained the Wing of Madoola, a statue of a bird that gives its owner the power to rule the kingdom.
The game was re-released for 3DS Virtual Console on January 30, 2013.
Note that a game titled Ma○oolaEX was released in 2009, created by the original game's character designer, but it's not authorized by Sunsoft, and is in fact considered an unofficial work (hence the "censoring" in the title).
Links to other series
| Direction | Series | Date | Description | Type |
| --- | --- | --- | --- | --- |
| | Barcode Battler | | A Wing of Madoola card is included in the game Barcode World. | 1 |
| | Ultra 2000 Sunsoft Classic Games | | The Wing of Madoola is included in Ultra 2000 Sunsoft Classic Games Vol.1. | 2 |
| | Memorial Series | | The Wing of Madoola is included in Memorial Series Sunsoft Vol.3. | 2 |
| | 3D Dot Game Heroes | | 3D Dot Game Heroes features a loading screen based on The Wing of Madoola. | 3 |
| | Shanghai (Sunsoft) | | Lucia from The Wing of Madoola appears on Mahjong tiles in Shanghai Musume: Mahjong Girls. | 2 |