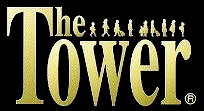 For detailed information about this series, see: SimTower at Wikipedia
The Tower is a series of management simulation videogames by OPeNBooK, where the player has to build and manage a tall building.
Nine games where released, all sharing the same formula:
The Tower (1994), Windows, Mac OS 7. A Sega Saturn version, and a slightly enhanced PlayStation version titled The Tower: Bonus Edition were released in 1996. Only the PC version was released outside Japan, titled SimTower: The Vertical Empire. Re-released in 2010 for iOS.
The Tower II (1998), PC. Released outside Japan as Yoot Tower.
The Tower SP (April 28, 2005), Game Boy Advance.
The Tower DS (June 26, 2008), Nintendo DS.
The Tower DS Classic (August 26, 2009), DSiWare. Two additional DSi games were only released in Japan in 2009, respectively on September 30th and October 21st.
The Tower (August 5, 2010), iPad.
The Tower for iPhone (October 11, 2011), iPhone.
Links to other series
| Direction | Series | Date | Description | Type |
| --- | --- | --- | --- | --- |
| | Sim | | The Tower was released outside Japan as SimTower. | 1 |
| | Mario | | The Tower DS and The Tower DS Classic feature a "Mario Tower" as a special building. | 2 |
| | Project Highrise | | Project Highrise is a spiritual successor to The Tower. | 3 |
| | Super Smash Bros. | | Yama from The Tower SP appears as a spirit in Super Smash Bros. Ultimate. | 1 |