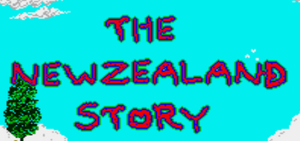 For detailed information about this series, see: The NewZealand Story on Wikipedia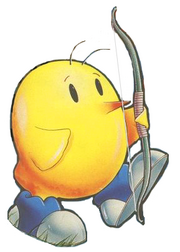 The NewZealand Story, alternatively spelled The New Zealand Story, is a side-scrolling platform video game series by Taito.
Video games
The NewZealand Story (September 1988). Arcade. Later released on the Sharp X68000, FM TOWNS, Amiga, Atari ST, Amstrad CPC, ZX-Spectrum, Commodore 64, PC-Engine, Sega Genesis, NES (only in America and Europe under the name Kiwi Kraze) and Sega Master System. The PC-Engine version was rereleased in 2008 for the Wii Virtual Console.
The NewZealand Story Revolution (January 25, 2007). Nintendo DS. Known as The NewZealand Story DS in Japan.
Links to other series
| Direction | Series | Date | Description | Type |
| --- | --- | --- | --- | --- |
| | Pocky & Rocky | | A secret warp room in The NewZealand Story features an arrangement of blocks resembling a Puka Puka ghost from Kiki KaiKai. | 3 |
| | The Fairyland Story | | A secret warp room in The NewZealand Story features an arrangement of blocks resembling Ptolemy from The Fairyland Story, and both games have a similar red devil enemy. | 3 |
| | Cameltry | | Tiki from The NewZealand Story appears in Cameltry holding a 1000 Pts sign if the player reaches the goal with more than 60 seconds on the clock. | 1 |
| | Liquid Kids | | A secret warp room in Liquid Kids features an arrangement of blocks resembling Tiki from The NewZealand Story. | 3 |
| | Quiz Quest | | Tiki from The NewZealand Story is pictured in Quiz Quest: Hime to Yuusha no Monogatari. | 2 |
| | Space Invaders | | Stage 1 in the Parody Mode of Space Invaders DX is based on The New Zealand Story and features a playable Tiki; he's also one of the characters providing assist attacks in Arkanoid vs. Space Invaders. | 1 |
| | Bubble Bobble | | Tiki from The NewZealand Story spawns as an item in Round 55 of Bubble Memories. | 2 |
| | Pop n' Pop | | Characters from The NewZealand Story appear in Pop n' Pop. | 1 |
| | Taito Memories | | Taito Memories Gekan and Pocket Memories include The NewZealand Story. | 2 |
| | Taito Legends | | Taito Legends and Taito Legends: Power-Up include The NewZealand Story. | 2 |
| | Rainbow Islands | | Bob, Bub, Mike and Violet from Rainbow Islands Revolutions appear as captured friends in The NewZealand Story Revolution. | 1 |
| | Arkanoid | | Tiki from The NewZealand Story appears as one of the characters providing assist attacks in Arkanoid vs. Space Invaders. | 1 |