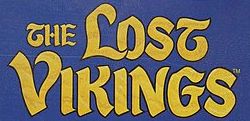 For detailed information about this series, see: The Lost Vikings on Wikipedia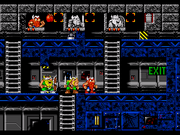 The Lost Vikings is a series of platforming video games by Blizzard Entertainment (formerly known as Silicon & Synapse). It stars three Vikings, Erik the Swift, Baleog the Fierce, and Olaf the Stout, and the plot revolves around their fights against evil aliens led by emperor Tomator.
Two original games have been released, plus a remake:
The Lost Vikings (1992), SNES. Released on Amiga, Amiga CD32, MS-DOS, and Sega Mega Drive/Sega Genesis in 1993 and on Game Boy Advance in 2003.
The Lost Vikings 2 (February 27, 1997), SNES.
Norse by Norse West: The Return Of Lost Vikings (April 30, 1997), PC, PlayStation, Sega Saturn. A remake of the second game, known as Lost Vikings 2: Norse by Norsewest in Europe.
Links to other series
| Direction | Series | Date | Description | Type |
| --- | --- | --- | --- | --- |
| | Alien | | The Lost Vikings features a reference to the movie Aliens. | 3 |
| | Mario | | Erik, Baleog and Olaf from The Lost Vikings are featured in the comic Super Mario: Verloren in der Zeit Part 2. | 1 |
| | Rock n' Roll Racing | | Olaf from The Lost Vikings is selectable in Rock n' Roll Racing. | 1 |
| | Blackthorne | | Erik, Baleog and Olaf from The Lost Vikings make a cameo appearance in Blackthorne. | 1 |
| | Warcraft | | A level of The Lost Vikings II takes place in the Swamps of Sorrow, a location from Warcraft: Orcs and Humans; The three Vikings make a cameo appearance in World of Warcraft. | 1 |
| | Star Wars | | The Lost Vikings II features many references to the Star Wars movies. | 3 |
| | Starcraft | | Starcraft II features some references to The Lost Vikings. | 3 |
| | Heroes of the Storm | | The Lost Vikings characters appear in Heroes of the Storm. | 1 |
| | Overwatch | | Overwatch features references to Erik, Baleog and Olaf from The Lost Vikings, and the cabinet for a game titled "The Lost Vikings VI". | 2 |