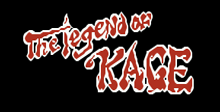 For detailed information about this series, see: The Legend of Kage on Wikipedia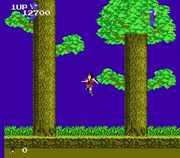 The Legend of Kage is an action platform video game series by Taito.
Video games
The Legend of Kage (October 1985). Arcade. Later released on NES, MSX, Commodore 64, Amstrad CPC, ZX-Spectrum, mobile phones, Rereleased on 2006 on the Wii Virtual Console, 2014 on the Nintendo 3DS Virtual Console and Wii U Virtual Console, and 2015 on PlayStation Network.

An updated version of the game using 3D graphics is included together with the original in Taito Pocket Memories and Taito Legends: Power-Up.

The Legend of Kage Revised (2006). An arrange version of the original game which adds two new playable characters and a new boss, included alongside the original game in Taito Nostalgia 1 for the "Let's! TV Play Classic" plug & play device.
The Legend of Kage 2 (March 13, 2008). Nintendo DS.
Links to other series
| Direction | Series | Date | Description | Type |
| --- | --- | --- | --- | --- |
| | Demon Sword | | Demon Sword is a spirit successor to The Legend of Kage. | 3 |
| | Touhou Project | | The theme "The Legend of KAGE" from Touhou Reiiden~ The Highly Responsive to Prayers is inspired by The Legend of Kage. | 3 |
| | Taito Memories | | Taito Memories Gekan and Pocket Memories include The Legend of Kage, the latter also includes an enhanced version. | 2 |
| | Taiko no Tatsujin | | Taiko no Tatsujin: Wai Wai Happy! Rokudaime and Taiko no Tatsujin 8 feature a music track from The Legend of Kage. | 2 |
| | Taito Nostalgia | | The Legend of Kage and an updated version titled The Legend of Kage Revised are included in Taito Nostalgia 1. | 2 |
| | Taito Legends | | Taito Legends 2 and Taito Legends: Power-Up include The Legend of Kage, the latter also includes an enhanced version. | 2 |
| | Daifugo Party | | Kage from The Legend of Kage is a playable character in Daifugo Party. | 1 |
| | Music GunGun! | | Music from The Legend of Kage is featured in Music GunGun 2! | 2 |
| | Space Invaders | | Kage from The Legend of Kage appears as one of the characters providing assist attacks in Arkanoid vs. Space Invaders. | 1 |
| | Arkanoid | | Kage from The Legend of Kage appears as one of the characters providing assist attacks in Arkanoid vs. Space Invaders, while a wallpaper based on The Legend of Kage 2 is unlockable in Arkanoid DS. | 1 |
| | Groove Coaster | | A remixed theme of The Legend of Kage is featured in Groove Coaster 3EX. | 3 |