This page explains in detail the interactions between the Tetris series and the Yoshi series.
Tetris Attack
august 1996

Tetris Attack is a remake of Panel de Pon, featuring the same gameplay, but using themes and characters from the Yoshi series.
Tetris DS
20060320 March 20, 2006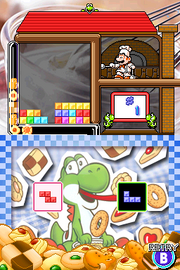 Tetris DS features six different modes, each one with themes from a different Nintendo game, and Puzzle Mode is the Yoshi's Cookie-themed mode (For details about other modes see Nintendo X Tetris#Tetris DS). This mode presents the player with various situations and the player must solve them selecting the right tetrominos in the right order. The top screen reproduces Yoshi's Cookie game screen, with the playfield on the left, with Cookies going trough pipes around it, Chef Mario in the upper left section, while the bottom left section has the cookie count replaced by two Yoshis holding a sign telling how many tetrominos must be used. The bottom screen shows the selectable Tetrominos and has the cover art for the Japanese version of Yoshi's Cookie as the background. This image is edited to have Yoshi look at the camera, rather than in front of him.
Notably, the Yoshi series is the only one to be represented in a game mode, but not in a level in Standard Mode.
License
To create Tetris Attack, Nintendo simply remade Panel de Pon, taking from the Tetris Company (the current holder of Tetris' rights) the right to use Tetris' name.
Tetris DS was produced by Nintendo, so they could freely include characters from their series in it.