This page explains in detail the interactions between the Tetris series and The Simpsons series.
The Simpsons episode The Strong Arms of the Ma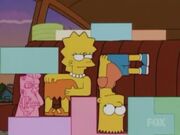 2003022 February 2, 2003

In the ninth episode of season 14 (Episode #300 production-wise; episode #298 broadcast-wise), near the beginning, as the Simpsons are about to return home from Rainier Wolfcastle's Bankruptcy Garage Sale, they've got so many packs that to make everything fit into the car, including the members of the family, Homer arranges them like they were Tetris pieces. Ultimately he manages to fit everything in, but forgot about himself.
The Simpsons episode The Italian Bob
20051211 December 11, 2005

In the eighth episode of season 17 (Episode #364), after the Springfield police burst into Sideshow Bob's old home, Chief Wiggum mentions Tetris after finding out that the house is currently occupied by totally different people: "Oh, God, am I sorry. Oh, hey, is that a Penn State banner? 'Cause my cousin went there. Did you know him? Mark Wiggum, fat kid? Played a lot of Tetris?"
The Simpsons episode A Totally Fun Thing That Bart Will Never Do Again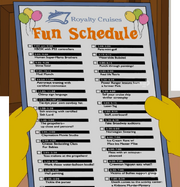 2012429 April 29, 2012

In the nineteenth episode of Season 23 (Episode #505), one of the activities listed on the schedule for the cruise ship is "Real life Tetris". Whatever it is it lasts 55 minutes, since it's from 4:05 to 5:00.
License
The creators of the Simpsons held no right over Tetris, but they only included minor references to the games.