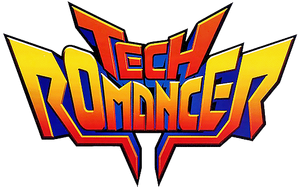 For detailed information about this series, see: Tech Romancer on Wikipedia
Tech Romancer, known as Chōkō Senki Kikaiōh (lit., The Chronicle of Super Steel Warrior Kikaioh), is a mecha-based fighting video game series developed by Capcom.
Video Games
Tech Romancer (September 1998). Arcade. Later released on Sega Dreamcast.
Drama CD
Chōkō Senki Kikaiō Drama Album (November 7, 1998). A drama album first aired on radio. It was released individually on December 21, 1998. Japanese exclusive.
Links to other series
| Direction | Series | Date | Description | Type |
| --- | --- | --- | --- | --- |
| | Mazinger Z | | G.Kaiser and other mecha from Tech Romancer are inspired by mecha from Mazinger Z. | 3 |
| | Macross | | Rafaga from Tech Romancer is inspired by the Valkyries from Macross. | 3 |
| | Gundam | | Dixen from Tech Romancer is inspired by the Gundam series. | 3 |
| | Ultraman | | Pulsion from Tech Romancer is inspired by Ultraman. | 3 |
| | Getter Robo | | Twinzam V from Tech Romancer is inspired by the Getter Robo mechas. | 3 |
| | Cyberbots | | Jin Saotome and Blodia from Cyberbots are selectable in the Dreamcast port of Tech Romancer. | 1 |
| | SNK vs. Capcom | | Characters from Tech Romancer are featured in SNK vs. Capcom: Card Fighters 2 and SNK vs. Capcom: Card Fighters DS. | 2 |
| | Tatsunoko vs. Capcom | | G. Kaiser and Gourai from Tech Romancer make cameo appearances in Tatsunoko vs. Capcom. | 1 |
| | Lost Planet | | "Tech Romancer" is one of the unlockable Nom de Guerres in Lost Planet 2. | 2 |
| | Project X Zone | | A chibi-style G.Kaiser from Tech Romancer make a cameo appearance in Project X Zone. | 1 |
| | Minna to Series | | G.Kaiser from Tech Romancer is featured in Minna to Capcom All Stars, he also makes a cameo appearance in the intro of Street Fighter × All Capcom. | 1 |
| | Street Fighter | | G.Kaiser from Tech Romancer makes a cameo appearance in the intro of Street Fighter × All Capcom. | 1 |