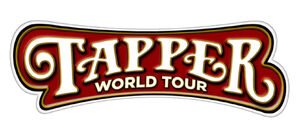 For detailed information about this series, see: Tapper on Wikipedia
Tapper is a video game created by Midway that puts the player in the role of a bartender and the objective is to serve beer to the customers.
Various versions of the game have been released:
Tapper (1983), Arcade. Characterized by the "Budweiser" branding in the background, is sometimes identified as Budweiser Tapper.
Root Beer Tapper (1984), Arcade. Only featuring graphics differences from the original version, most notably removing the Budweiser references. Re-released in 2007 for Xbox Live Arcade.
Tapper (1984), Atari 2600, Atari 8-bit, ColecoVision, Commodore 64, ZX Spectrum, Amstrad CPC, BBC Micro, PC. Featuring elements from both the arcade versions.
Tapper World Tour (March 16, 2011), iOS. A completley re-imagined version of the game.
Links to other series
| Direction | Series | Date | Description | Type |
| --- | --- | --- | --- | --- |
| | Domino Man | | The bartender from Tapper is based on the main character from Domino Man. | 3 |
| | Midway Arcade Treasures | | Root Beer Tapper is included in Midway Arcade Treasures. | 2 |
| | Wreck-It Ralph | | In Wreck-It Ralph, Ralph visits the game Tapper. | 1 |