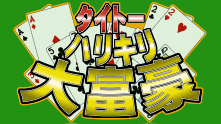 For detailed information about this series, see: Taito Harikiri Daifugo at Taito's official site (Japanese)
Taito Harikiri Daifugo (roughly Taito Vigorous Daifugo) is a Daifugo card game for mobile phones, released on July 13, 2006. It has since been taken down and can't be played anymore.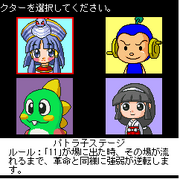 The game itself was a simple card game with no plot, where the player could play a game of daifugo against four characters from different Taito series, with each character bringing in an unique rule when chosen. These specific rules could be turned off in the options menu. After winning a best of 3 game, the player was awarded points which could be used to unlock artwork pieces of each character for later viewing in the "Album" option.
The four characters featured in the game and their special rule were:
| Character | Series | Rule |
| --- | --- | --- |
| Patrako | Cleopatra Fortune | If a "11" card is played, card strength is reversed until the end of the session. This is similar to the optional rule in Daifugo known as the "Revolution". |
| Mawasu-kun | Turn it Around | If a "5" card is played, the player can choose to force the next player to pass their turn. |
| Bubblun (Bub) | Bubble Bobble | If three cards of the same suit come out consecutively, only cards of that suit can be played until the end of the session. |
| Sayo-chan (Pocky) | Pocky & Rocky | If a "8" card or a combination of cards summing up "8" is played, the session is automatically ended. |
Links to other series
| Direction | Series | Date | Description | Type |
| --- | --- | --- | --- | --- |
| | Bubble Bobble | | Bub from Bubble Bobble is one of the characters in Taito Harikiri Daifugo. | 1 |
| | Cleopatra Fortune | | Patrako from Cleopatra Fortune is one of the characters in Taito Harikiri Daifugo. | 1 |
| | Pocky & Rocky | | Sayo-chan/Pocky is one of the characters in Taito Harikiri Daifugo. | 1 |
| | Turn it Around | | Mawasu-kun from the Arcade version of Turn it Around is one of the characters in Taito Harikiri Daifugo. | 1 |