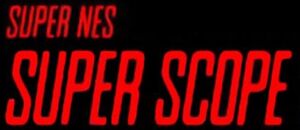 For detailed information about this series, see: Super Scope on Wikipedia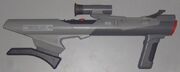 The
Super Scope
, or
Nintendo Scope
is the official Super Nintendo light gun, that was released in 1992. Since besides being a gaming accessory it also is a fictional weapon, this can be considered a fictional series.
With "Super Scope" series we consider both the Super Scope accessory, and the game boundled with it: Super Scope 6, a game that includes six game modes, hence the title.
Other 11 games compatible with the Super Scope have been released:
These are sometimes improperly called the "Super Scope" series.
Links to other series
Note: appearances of the Super Scope as a weapon count as in-universe links, but appearances of it as a gaming device only count as sub-universe links, while games featuring compatibility with the device count as out-universe links
| Direction | Series | Date | Description | Type |
| --- | --- | --- | --- | --- |
| | Mario | | Mario and Lemmy Koopa have a cameo in Super Scope 6; Sniper Bills from Mario & Luigi: Superstar Saga use the Super Scope. | 1 |
| | X Zone | | X Zone is compatible with the Super Scope and the main character is shown using it in the game. | 1 |
| | Battle Clash | | Battle Clash and Metal Combat: Falcon's Revenge are compatible with the Super Scope; The mechas in Metal Combat also use guns similar to the Super Scope. | 3 |
| | Bazooka Blitzkrieg | | Bazooka Blitzkrieg is compatible with the Super Scope, and the main character is seen using it in the game. | 1 |
| | Tom Clancy's Jack Ryan | | The Hunt for Red October for the SNES is compatible with the Super Scope. | 3 |
| | Yoshi | | Mario uses the Super Scope in Yoshi's Safari. | 1 |
| | Crazy Cars | | Lamborghini American Challenge is compatible with the Super Scope. | 3 |
| | Operation Wolf | | The SNES version of Operation Thunderbolt is compatible with the Super Scope. | 3 |
| | Lemmings | | The SNES version of Lemmings 2: The Tribes is compatible with the Super Scope. | 3 |
| | Tin Star | | Tin Star is compatible with the Super Scope. | 3 |
| | Terminator | | The SNES version of T2: The Arcade Game is compatible with the Super Scope. | 3 |
| | Super Smash Bros. | | The Super Scope is a weapon in Super Smash Bros. Melee and its sequels. | 1 |
| | Wario | | A microgame version of Super Scope 6's "LazerBlazer" mode is featured in WarioWare inc.: Minigame Mania. | 2 |
| | Angry Video Game Nerd | | The Angry Video Game Nerd reviews the Super Scope in the episode "NES Accessories" and a weapon based on it also appear in Angry Video Game Nerd Adventures. | 2 |