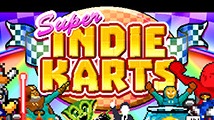 Super Indie Karts is an indie racing game developed and published by One Legged Seagull. It was released for Ouya on March 6, 2015, and was later released in Early Access on Steam on May 6, 2015, and will be fully released in 2018.
Links to other series
Mascot link: Percyl is a playable character in Super Indie Karts.
| Direction | Series | Date | Description | Type |
| --- | --- | --- | --- | --- |
| | A.R.E.S. Extinction Agenda | | A.R.E.S. is a playable character in Super Indie Karts. | 1 |
| | Lobodestroyo | | Mutt is a playable character in Super Indie Karts. | 1 |
| | Read Only Memories | | Turing, Conway, and Spirit are playable characters in Super Indie Karts. A track based on Read Only Memories is also in Super Indie Karts. | 1 |
| | So Many Me | | Filo is a playable character in Super Indie Karts. | 1 |
| | Duck Game | | Duck is a playable character in Super Indie Karts. A track based on Duck Game is also in Super Indie Karts. | 1 |
| | Whispering Willows | | Elena is a playable character in Super Indie Karts. A track based on Whispering Willows is also in Super Indie Karts. | 1 |
| | Fist of Awesome | | Tim Burr is a playable character in Super Indie Karts. A track based on Fist of Awesome is also in Super Indie Karts. | 1 |
| | Toto Temple | | Toto Blue, Toto Green, Toto Red, and Toto Yellow are playable characters in Super Indie Karts. A track based on Toto Temple Deluxe is also in Super Indie Karts. | 1 |
| | Aegis Defenders | | Clu and Bart are playable characters in Super Indie Karts. | 1 |
| | Adventures of Pip | | Pip is a playable character in Super Indie Karts. | 1 |
| | Gentlemen...Ricochet! | | Lord O'Saurus is a playable character in Super Indie Karts. | 1 |
| | Holobunnies | | Danielle is a playable character in Super Indie Karts. | 1 |
| | Canabalt | | Canabalt is a playable character in Super Indie Karts. A track based on Canabalt is also in Super Indie Karts. | 1 |
| | Clive 'N' Wrench | | Clive & Wrench are a playable character in Super Indie Karts. | 1 |
| | CrossCode | | Lea is a playable character in Super Indie Karts. A track based on CrossCode is also in Super Indie Karts. | 1 |
| | Power Drive 2000 | | C.A.T. is a playable character in Super Indie Karts. A track based on Power Drive 2000 is also in Super Indie Karts. | 1 |
| | Shütshimi | | The Fishy is a playable character in Super Indie Karts. A track based on Shütshimi is also in Super Indie Karts. | 1 |
| | Teslagrad | | Teslakid is a playable character in Super Indie Karts. A track based on Teslagrad is also in Super Indie Karts. | 1 |
| | Indie Assault | | Titus was previously a playable character in Super Indie Karts. | 1 |
| | Guacamelee! | | Juan Aguacate is a playable character in Super Indie Karts. | 1 |
| | Runbow | | Hue and Val are playable characters in Super Indie Karts. A track based on Runbow is also in Super Indie Karts. | 1 |
| | Freedom Planet | | Carol Tea and Sash Lilac are playable characters in Super Indie Karts. Tracks based on Freedom Planet are also in Super Indie Karts. | 1 |
| | Moonman | | Moonman is a playable character in Super Indie Karts. | 1 |
| | Starr Mazer | | Brick is a playable character in Super Indie Karts. A track based on Starr Mazer: DSP is also in Super Indie Karts. | 1 |
| | INK | | Roy G Biv is a playable character in Super Indie Karts. A track based on INK is also in Super Indie Karts. | 1 |
| | Knightmare Tower | | The Knight is a playable character in Super Indie Karts. A track based on Knightmare Tower is also in Super Indie Karts. | 1 |