For detailed information about this series, see: Steven Universe Wiki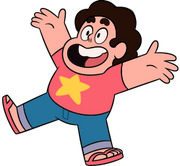 Steven Universe is a television series created on Cartoon Network.
TV
Steven Universe (November 4, 2013 - Present)
Video games
Steven Universe: Attack the Light! (2015). A tactical RPG for mobile devices.
Publications
Steven Universe (August 2014). A monthly comic book series by BOOM! Studios
Links to other series
Note:Steven Universe also appears in Cartoon Network's New Promo Thursdays but since it is only one use of trademarks of Cartoon Network, does not count despite not having a narrative line.
| Direction | Series | Date | Description | Type |
| --- | --- | --- | --- | --- |
| | Full House | | The Steven Universe episode "Cheeseburger Backpack" features a minor reference to Full House. | 3 |
| | Samba de Amigo | | The Arcade game "Meat Beat Mania" from the Steven Universe episode "Arcade Mania" is a parody of Samba de Amigo. | 2.5 |
| | Streets of Rage | | The Arcade game "Teens of Rage" from the Steven Universe episode "Arcade Mania" is a parody of Streets of Rage. | 2.5 |
| | Mega Man | | There's a reference to the stage select screen from Mega Man 3 in the Steven Universe episode "Onion Trade". | 3 |
| | DuckTales | | There's a minor reference to Scrooge McDuck in the Steven Univese episode "Onion Trade". | 3 |
| | Pokémon | | A toy resembling Pikachu appears in the Steven Universe episode "Steven the Sword Fighter". The videogame "Mini Golf Quest" from the Steven Universe episode "Rose's Room" is partly inspired by Pokémon | 3 |
| | Gitaroo Man | | A toy resembling Gitaroo Man appears in the Steven Universe episode "Steven the Sword Fighter". | 3 |
| | Final Fantasy | | A toy resembling Cloud Strife from Final Fantasy VII appears in the Steven Universe episode "Steven the Sword Fighter". | 3 |
| | Batman | | A giant penny similar to the one found in Batman's Batcave can be seen in the Steven Universe episode "Lion 2: The Movie". | 3 |
| | Mother | | The videogame "Mini Golf Quest" from the Steven Universe episode "Rose's Room" is partly inspired by Mother 2. | 3 |
| | Howl's Moving Castle | | There's a minor reerence to Howl's Moving Castle in the Steven Universe episode "House Guest". | 3 |
| | Sailor Moon | | A Sailor Moon comic book is visible at the end of the Steven Universe episode "House Guest". | 2 |
| | The Fly | | There's a reference to the movie The Fly in the Steven Universe episode "Island Adventure". | 3 |
| | Five Nights at Freddy's | | In issue #5 of the Steven Universe comic book, one panel features three plush dolls of the main animatronics from Five Nights at Freddy's. | 2 |
| | Usagi Yojimbo | | The character Hoppy from the Steven Universe episode "Garnet's Universe" is likely inspired by the main character in Usagi Yojimbo. | 3 |
| | Dragon Ball | | There are several references to Dragon Ball Z in the Steven Universe episode "Garnet's Universe". | 3 |
| | Tengen Toppa Gurren-Lagan | | There is a minor reference to Tengen Toppa Gurren-Lagan in the Steven Universe episode "Garnet's Universe". | 3 |
| | Fist of the North Star | | There is a minor reference to Fist of the North Star in the Steven Universe episode "Garnet's Universe". | 3 |
| | Akira | | There is a minor reference to Akira in the Steven Universe episode "Garnet's Universe". | 3 |
| | Indiana Jones | | There is a minor reference to Indiana Jones and the Temple of Doom in the Steven Universe episode "The Test". | 3 |
| | Zelda | | At the end of the Steven Universe episode "Open Book", there's a Legend of Zelda: Wind Waker video game case in Steven's room. The temple in the episode "Serious Steven" may have been inspired by the ones in The Legend of Zelda. The videogame "Mini Golf Quest" from the Steven Universe episode "Rose's Room" is partly inspired by The Legend of Zelda. | 2 |
| | Animal Crossing | | At the end of the episode "Open Book", there's an Animal Crossing GameCube video game case in Steven's room. | 2 |
| | Uncle Grandpa | | The episode "Say Uncle" is a crossover between Steven Universe and Uncle Grandpa. One episode of Uncle Grandpa also features a kid dressed like Steven. | 1 |
| | Dexter's Laboratory | | The episode "Say Uncle" features a list of names of Cartoon Network characters. Two of those names are Dexter and Deedee. | 1 |
| | The Powerpuff Girls | | The episode "Say Uncle" features a list of names of Cartoon Network characters. Three of those names are Blossom, Bubbles, and Buttercup. | 1 |
| | Ed, Edd n Eddy | | The episode "Say Uncle" features a list of names of Cartoon Network characters. Three of those names are Ed, Edd, and Eddy. | 1 |
| | The Grim Adventures of Billy & Mandy | | The episode "Say Uncle" features a list of names of Cartoon Network characters. Two of those names are Billy and Mandy. | 1 |
| | Foster's Home for Imaginary Friends | | The episode "Say Uncle" features a list of names of Cartoon Network characters. One of those names is Mac. | 1 |
| | The Life and Times of Juniper Lee | | The episode "Say Uncle" features a list of names of Cartoon Network characters. One of those names is Juniper. | 1 |
| | Swat Kats | | The episode "Say Uncle" features a list of names of Cartoon Network characters. Swat Kats is the only exceptional name. | 1 |
| | The Marvelous Misadventures of Flapjack | | The episode "Say Uncle" features a list of names of Cartoon Network characters. One of those names is Flapjack. | 1 |
| | Adventure Time | | The episode "Say Uncle" features a list of names of Cartoon Network characters. One of those names is Finn. | 1 |
| | Clarence | | The episode "Say Uncle" features a list of names of Cartoon Network characters. One of those names is Clarence. | 1 |
| | Super Smash Bros. | | The episode "Say Uncle" features a parody of Super Smash Bros. Melee. | 3 |
| | Little Witch Academia | | A character resembling Connie Maheswaran from Steven Universe appears in "Little Witch Academia: The Enchanted Parade". | 3 |
| | LittleBigPlanet | | Outfits based on Steven Universe characters are downloadable in "LittleBigPlanet 3". | 2 |
| | Cartoon Network: Battle Crashers | | Steven appears as a playable fighter in Cartoon Network:Battle Crashers. | 1 |
| | Craig of the Creek | | A Steven doll can be seen in the pilot for Craig of the Creek. | 2 |
| | Fortnite | | UNDIRECT: Pearl from Steven Universe mimics a dance from Fortnite in an official Cartoon Network video, though the video isn't part of either series. | 2 |
| | OK K.O.! | | There's an arcade machine with the title "OK K.O.!" in a Steven Universe episode. Also Garnet appears in the "OK K.O.!" episode "Crossover Nexus". | 1 |