For detailed information about this series, see: Arwingpedia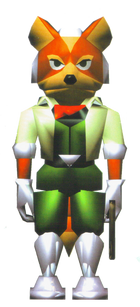 Star Fox is a series of sci-fi video games by Nintendo. All games in the series are space flying simultaors, with the only exception of Star Fox Adventures, that's an action-adventure game, but still featuring flying sections. A distinctive feature of the series is its characters being anthropomorphic animals, with the main character being a fox called Fox McCloud and leader of the Star Fox team.
Video games
Original games
Star Fox (February 21, 1993), Super Famicom, SNES. Released as Starwing in Europe.
Star Fox 64 (April 27, 1997), Nintendo 64. Titled Lylat Wars in Europe. It was released in 2007 for Wii Virtual Console. Rebooting the series, it's sometimes considered a remake of the first game.
Star Fox Adventures (September 23, 2002), GameCube.
Star Fox: Assault (February 14, 2005), GameCube.
Star Fox Command (August 3, 2006), Nintendo DS.
Star Fox Zero (April 21, 2016), Wii U. A boundle also including Star Fox Guard was also released.
Star Fox Guard (April 21, 2016), Wii U.
Star Fox 2 (September 29, 2017), Super NES Classic Edition. A sequel to the first game, originally created for the Super Famicom, but cancelled at a near-finished state.
Remakes
Star Fox Game Watch (June 1993), Game Watch.
Star Fox 64 3D (July 14, 2011), Nintendo 3DS.
Other media
Three comics were published in the series:
Star Fox (February-December 1993), a comic based on the original game published on the Nintendo Power magazine for 11 issues.
Lylat Wars Comic (1997), comic based on Star Fox 64, only released in Europe.
Star Fox: Farewell, Beloved Falco (2002), comic telling the events between Star Fox 64 and Star Fox Adventures, only distributed on the Japanese website for Adventures.
An animated short based on Star Fox Zero, titled Star Fox Zero: The Battle Begins, was released online on April 20, 2016 to promote the game.
Links to other series
| Direction | Series | Date | Description | Type |
| --- | --- | --- | --- | --- |
| | Mario | | Fox from Star Fox is featured in the comics Super Mario: Mario im Wunderland and, with other Star Fox characters in Part 3 of Super Mario: Verloren in der Zeit; he also makes a cameo in Super Mario-Kun #7. | 1 |
| | Stunt Race FX | | An Arwing from Star Fox makes an appearance in Stunt Race FX. | 1 |
| | Super Smash Bros. | | Characters and places from the Star Fox series are featured in all Super Smash Bros. games. | 1 |
| | N-Gang | | Fox McCloud appears in the N-Gang episode "Freeze Frame". | 1 |
| | Picross | | Picross NP Vol. 4 and Vol. 6 include images from the Star Fox series. | 2 |
| | Zelda | | Five masks in The Legend of Zelda: Majora's Mask seem to reference the Star Fox team. | 3 |
| | Pokémon | | In Pokémon Stadium 2, connecting video game consoles to a TV can show an image from Star Fox 64. | 2 |
| | Animal Crossing | | An Arwing from the Star Fox series appears as an item in all Animal Crossing games. | 2 |
| | Banjo-Kazooie | | Star Fox Adventures features a character possibly based on Kazooie. | 3 |
| | Rally-X | | The Special Flag from Rally-X makes an appearance in Star Fox: Assault. | 1 |
| | Donkey Kong | | A song from Star Fox: Assault is featured in Donkey Konga 3. | 2 |
| | Asterix | | In Asterix & Obelix XXL 2: Mission: Las Vegum there's a reference to the Star Fox series. | 3 |
| | F-Zero | | James McCloud from F-Zero X is based on Fox and James McCloud from the StarFox series; Leon from F-Zero GX may be a reference to Wolf O'Donnell; Octoman from the F-Zero series makes an appearance in Star Fox Command; there also are other references between the two series. | 1 |
| | Wario | | Microgame versions of Star Fox are featured in WarioWare: Smooth Moves and WarioWare: D.I.Y. | 2 |
| | Famicom Robot | | Some robot characters in the Star Fox series may be based on R.O.B.; UNDIRECT: R.O.B. appears as a boss in the microgame version of Star Fox in WarioWare: Smooth Moves. | 1 |
| | Aoi Sekai no Chushin de | | Foster in Aoi Sekai no Chushin de is based on Fox from Star Fox. | 3 |
| | Futurama | | Characters resembling Fox, Peppy and Slippy make a cameo in the issue "The Fry and the Furious!" of the Futurama Comic. | 3 |
| | Mii Plaza | | Mii Plaza features four unlockable hats based on Star Fox and includes a Puzzle Swap puzzle based on Star Fox 64 3D. | 2 |
| | Smosh | | Star Fox characters appear in Star Fox TV Show!. | 2 |
| | Tekken | | Tekken Tag Tournament 2: Wii U Edition features a Fox McCloud outfit for the characters. | 2 |
| | Steel Diver | | Peppy Hare makes a cameo in Steel Diver: Sub Wars; The Blue Marine submarine from Star Fox 64 was also added to the game in an update. | 1 |
| | Bayonetta | | Bayonetta 2 features a costume based on Fox McCloud with Arwing-shaped guns and an Arwing actually appearing in the game. | 1 |
| | Ace Combat | | Ace Combat: Assault Horizon Legacy + features unlockable aircraft themed after Fox from Star Fox 64 3D. | 2 |
| | Kirby | | Four planets from Kirby Super Star, Floria, Aqualiss, Mecheye, and Halfmoon, are mentioned on the cover of a travel magazine in Star Fox Zero: The Battle Begins. | 1 |
| | Monster Hunter | | Monster Hunter X features a downloadable costume from Star Fox. | 2 |
| | Starlink | | Fox, Falco, Slippy, Peppy, and Wolf appear in the Switch version of Starlink: Battle for Atlas. | 1 |