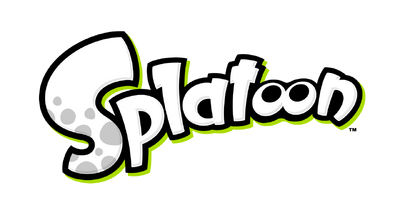 For detailed information about this series, see: Inkipedia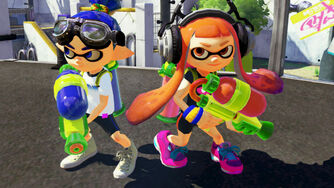 Splatoon is a series of third person shooter games by Nintendo starring Inklings, child-like creatures capable of turning into squids.
Video games
Two games have been released:
Splatoon (May 28, 2015) for Wii U.
Splatoon 2 (July 21, 2017) for Nintendo Switch. It received an expansion pack:

Splatoon 2: Octo Expansion (July 31, 2018)
amiibo
13 different amiibo figures were released, plus three recolors for a total of 16 releases:
Wave 1 (May 28, 2015): Inkling Girl, Inkling Boy, Inkling Squid (based on Splatoon)
Wave 2 (July 7, 2016): Callie, Marie, Inkling Girl (Green recolor), Inkling Boy (Purple recolor), Inkling Squid (Orange recolor)
Wave 3 (July 21, 2017): Inkling Girl, Inkling Boy, Inkling Squid (based on Splatoon 2)
Wave 4 (July 13, 2018): Pearl, Marina
Wave 5 (November 9, 2018): Octoling Girl, Octoling Boy, Octoling Octopus
Dioramas to display the amiibo were also released.
Manga
A Splatoon manga based on the games was also published on CoroCoro Comic magazines starting in December 2015.
The series was collected in volumes, and currently counts 7, released between July 28, 2016 and November 28, 2018.
Music
The Squid Sisters, fictional pop idol duo from Splatoon, had various live concerts in Japan where they appeared as digital projections.
Four Splatoon music albums were released:
Splatune (October 21, 2015) including music from Splatoon.
Splatoon Live in Makuhari (July 13, 2016) including performances from the Squid Sisters' live concerts from Niconico Tokaigi 2016 and Choongakusai 2016.
Splatune 2 (November 29, 2017) including music from Splatoon 2.
Octotune (July 18, 2018) including music from Splatoon 2 and its Octo Expansion.
Links to other series
Note: The Niconico app for Nintendo 3DS features compatibility with the Callie and Marie amiibo, that unlock a special version of the respective character's live performance, but that's a non-fictional app, therefore it doesn't count as a link.
| Direction | Series | Date | Description | Type |
| --- | --- | --- | --- | --- |
| | Mii Plaza | | Mii Plaza features an unlockable hat based on Inkling from Splatoon. | 2 |
| | Nintendo Badge Arcade | | Nintendo Badge Arcade features badges based on Splatoon. | 2 |
| | Zelda | | A picture of an 8-bit Octorok can be found in Splatoon and Splatoon 2; a giant cartridge based on Ocarina of Time appears in Splatoon 2: Octo Expansion. | 2 |
| | Style Savvy | | Girls Mode 3 and 4 feature clothing items based on Splatoon, unlocked by using Splatoon amiibo. | 2 |
| | Yoshi | | Yoshi's Woolly World features Yoshi designs based on Inklings, unlocked by using the respective amiibo. | 2 |
| | Shinryaku!! Ika Musume | | Splatoon features a Ika Musume costume, added to the game through an update. | 2 |
| | Transformers | | There's a Splatfest in Splatoon between Autobots and Decepticons. | 2 |
| | Daigasso! Band Brothers | | Daigasso! Band Brothers P features downloadable songs from Splatoon. | 2 |
| | Chibi-Robo! | | Chibi-Robo! Zip Lash features compatibility with the Splatoon amiibo, unlocking poses based on the characters. | 2 |
| | Pokémon | | There's a Splatfest in Splatoon between Pokémon Red and Blue. | 2 |
| | SpongeBob | | There's a Splatfest in Splatoon between Spongebob and Patrick. | 2 |
| | Miitomo | | Miitomo features Splatoon-themed items, while there's been a Splatfest in Splatoon based on Miitomo. | 2 |
| | Kirby | | Kirby: Planet Robobot features compatibility with Splatoon amiibo. | 3 |
| | Miitopia | | Miitopia features costumes based on Splatoon characters, obtainable by scanning the respective amiibo. | 2 |
| | Taiko no Tatsujin | | Taiko no Tatsujin Yellow Version features a music track and a costume from Splatoon. | 2 |
| | Mario | | Inklings appear as playable characters in Mario Kart 8 Deluxe; additionally there's a picture of an 8-bit Blooper in Splatoon, while Super Mario Maker features costumes based on Splatoon characters. | 1 |
| | Pikmin | | Scanning Splatoon amiibo in Hey! Pikmin, makes the figures appear in the game. | 2 |
| | Clu Clu Land | | Posters of the Unira enemy from Clu Clu Land appear in the stage Starfish Mainstage in Splatoon 2. | 2 |
| | Octopus | | A graffiti of the Octopus appears in the stage Ancho-V Games in Splatoon 2. | 2 |
| | Donkey Kong | | A poster based on the Donkey Kong series appears in the stage Ancho-V Games in Splatoon 2. | 2.5 |
| | We Bare Bears | | We Bare Bears characters play Splatoon 2 in a unique short. | 2 |
| | Conga Master Party! | | Conga Master Party! features compatibility with the Splatoon series amiibo. | 3 |
| | Teenage Mutant Ninja Turtles | | There's a Splatfest in Splatoon 2 between the four Teenage Mutant Ninja Turtles characters. | 2 |
| | Hello Kitty | | There's a Splatfest in Splatoon 2 with Hello Kitty. | 2 |
| | Cinnamoroll | | There's a Splatfest in Splatoon 2 with Cinnamoroll. | 2 |
| | My Melody | | There's a Splatfest in Splatoon 2 with My Melody. | 2 |
| | Pom Pom Purin | | There's a Splatfest in Splatoon 2 with Pom Pom Purin. | 2 |
| | Taiko no Tatsujin | | The squid from Splatoon appears in Taiko no Tatsujin: Nintendo Switch Version; Taiko no Tatsujin Yellow Version features a music track and a costume from Splatoon. | 1 |
| | Wario | | Wario can draw a sketch of Splatoon characters in WarioWare Gold by scanning the respective amiibo. | 2 |
| | F-Zero | | A giant cartridge based on F-Zero appears in Splatoon 2: Octo Expansion. | 2.5 |
| | Animal Crossing | | Splatoon squids can be collected in an event in Animal Crossing: Pocket Camp; Animal Crossing: New Leaf also features Splatoon-themed items and furniture. | 1 |
| | Super Smash Bros. | | Inkling costumes for Miis are downloadable in Super Smash Bros. for Wii U and for 3DS. Also, Inklings are playable in Super Smash Bros. for Switch. | 1 |