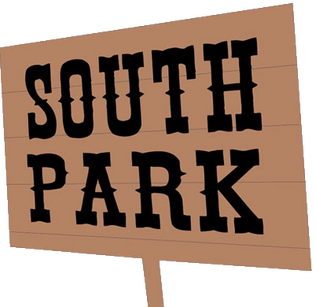 For detailed information about this series, see: South Park Archives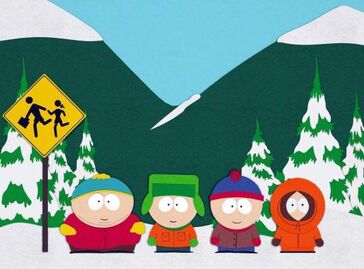 South Park is a animated series on Comedy Central.
TV
South Park (August 13th 1997 - present)
Cinema
South Park: Bigger, Longer & Uncut (June 30th 1999)
Video games
South Park: The Stick of Truth (March 4th 2014) for PS3, Xbox 360, and Microsoft Windows.
South Park The Factured but Whole (October 17th 2017)for Microsoft Windows,Playstation 4 and Xbox One.
Links to other series
| Direction | Series | Date | Description | Type |
| --- | --- | --- | --- | --- |
| | Star Wars | | Most of the kids wore Chewbacca masks in the South Park episode "Pinkeye". Also, the memberberries mention multiple references in Season 20 of South Park. | 2 |
| | The Simpsons | | Homer Simpson was mentioned in the episode "Ike's Wee Wee". Also, various Simpsons episodes were referenced in the South Park episode "Simpsons Already Did It". The Simpsons have also reference South Park. | 2 |
| | Fantasy Island | | Fantasy Island was mentioned in the South Park episode "City on the Edge of Forever". | 2 |
| | Barneby Jones | | Barneby Jones was mentioned in the South Park episode "City on the Edge of Forever". | 2 |
| | Dr. Katz, Professional Therapist | | Dr. Katz from Dr. Katz, Professional Therapist appears in the South Park episode, Summer Sucks, voiced by Jonathan Katz himself. | 1 |
| | The Brady Bunch | | Kyle mentioned The Brandy Brunch in the South Park episode "The Mexican Staring Frog of Southern Sri Lanka". | 2 |
| | Star Trek | | Star Trek was mentioned in the South Park episode "Spontaneous Combustion". | 2 |
| | Alien | | Eric Cartman was watching Aliens in the episode "Cat Orgy". | 2 |
| | Friends | | Friends was mentioned in the South Park episode "Cat Orgy". | 2 |
| | Scooby Doo | | Scoobydoo is parodied in the South Park episode "Korn's Groovy Pirate Ghost Mystery"; a person is dressed up as Scoobydoo in the South Park episode "Hell on Earth 2006". | 2 |
| | Pokémon | | In the episode Chinpokom are present various parodies of the Pokémon series, and fad culture in general. | 2 |
| | The Powerpuff Girls | | Blossom dresses like Eric Cartman in the Powerpuff Girls episode "Imaginary Friend". | 2 |
| | Rambo | | In the episode Cartman Joins NAMBLA is present one remix of the Rambo's theme song. | 2 |
| | FLCL | | A Kenny doll can be seen in the episode "Marquis de Carabas" of FLCL. | 2 |
| | The Godfather | | The Godfather is parodied several times in South Park. | 3 |
| | Peanuts | | The cast of South Park watch and criticize A Charlie Brown Christmas in the episode "A Very Crappy Christmas". | 2 |
| | Mission: Impossible | | Cartman has a Mission: Impossible playset in the episode Fun with Veal. | 2 |
| | Lord of the Rings | | Lord of the Rings is mentioned in the South Park episode "The Return of the Felleowship of the Ring to the Two Towers". | 2 |
| | The Passion of the Christ | | The Passion of the Christ is mentioned in the episode "Up the Down Steroids". It is also noticed in the episode "The Passion of Jew". | 2 |
| | Dance Dance Revolution | | Yao plays Dance Dance Revolution in the South Park episode " You Got F'd in the A". | 2 |
| | Mario | | Footage from Super Mario Bros. 2 can briefly be seen in South Park's episode "The Jeffersons"; there also are other references to Mario in later episodes. | 2 |
| | Family Guy | | The townspeople from South Park are against Family Guy in the Cartoon Wars duology. | 2 |
| | Saw | | There's a parody of the bathroom scene from Saw in the season 10 episode "Psst" from South Park. | 3 |
| | Warcraft | | The creators of south park asked Blizzard if they can use that game in their show and they were okay with this and so World of Warcraft is the an entire episode Make Love, Not Warcraft. | 2 |
| | The Three Stooges | | The Three Stooges are parodied in the South Park episode, Hell on Earth 2006. | 3 |
| | 24 | | The South Park episode "The Snuke" is a parody of 24. | 3 |
| | Danger Mouse | | In South Park's Imaginationland episodes there is a character resembling Danger Mouse. | 3 |
| | My Neighbor Totoro | | In South Park's episode "Imaginationland Episode I" there's a character resembling Totoro, while the episode "Mysterion Rises" features a reference to My Neighbor Totoro. | 3 |
| | Stargate | | A Stargate looking portal appears in the South Park episode "Imaginationland 2". | 3 |
| | Strawberry Shortcake | | In South Park's episode "Imaginationland Episode II" there's a character resembling Strawberry Shortcake. | 3 |
| | Guitar Hero | | Guitar Hero is mentioned in the South Park episode "Guitar Queer-O". | 2 |
| | Futurama | | In the Futurama film, Bender's Big Score, a head looking like Cartman from South Park makes a cameo in the head museum. | 3 |
| | High School Musical | | The High School Musical trilogy is mentioned in the South Park episode "Elementary School Musical". | 2 |
| | Mickey Mouse | | Mickey Mouse is a character in the South Park episode "The Ring". | 2 |
| | The Smurfs | | "The Smurfs" were mentioned in the South Park episode "Dances with Smurfs". | 2 |
| | The Catcher in the Rye | | The fourth graders were reading The Catcher in the Rye in the South Park episode "The Tale of Scrotie McBooger Balls". | 2 |
| | Superman | | "Superman" was mentioned in the South Park episode "Coon vs. Coon & Friends". | 2 |
| | Community | | South Park is mentoined in the Community episode "Intro To Political Science". | 2 |
| | Doctor Who | | Funnybot shows some resemblence to a Dalek from Doctor Who. | 3 |
| | The Hangover | | The Hangover: Part 3 was mentioned in the South Park episode "Funnybot". | 2 |
| | Nurse Jackie | | Nurse Jackie was mentioned in the South Park episode "Funnybot". | 2 |
| | Lego City | | The Lego City set 7635 4WD with Horse Trailer makes an appearance in the South Park episode "You're Getting Old". | 2 |
| | Ben 10 | | Eric Carman gets a Ben 10 wrist watch in the South Park episode "You're Getting Old". | 2 |
| | The Office | | South Park is mentoined in the Office episode "Spooked". | 2 |
| | Game of Thrones | | Mr. Garrison talks about Game of Thrones in the South Park episode "Cartman Finds Love". | 2 |
| | Avengers (Marvel) | | Stan and his friends dress up as the different Avengers in the episode "A Nightmare on Face Time. | 2 |
| | Ted | | Ted is shown on TV in the South Park episode "Nightmare on Face Time". | 2 |
| | Minecraft | | Minecraft was mentioned in the South Park episode "Informative Murder Porn". | 2 |
| | Yo Gabba Gabba! | | Yo Gabba Gabba! is shown in the South Park episode "Taming Strange". | 2 |
| | Dora the Explorer | | Kyle and Ike watch Dora the Explorer at the end of the Season 17 episode "Taming Strange" from South Park. | 2 |
| | Sesame Street | | Oscar the Grouch has appeared in the Imaginationland trilogy. Also, Elmo dolls are selling in the mall in the Black Friday Trilogy. | 2 |
| | Wacky Races | | Dastardly and Muttley are seen in the South Park episode "Handicar". | 2 |
| | The Lion King | | Butters mentioned "Lion King 2" in the episode "Where's My Country Gone". | 2 |
| | Ghostbusters | | Ghostbusters and Slimey were mentioned in the episode "Member Berries". | 2 |
| | The Fugitive | | The Fugitive was mentioned in the episode "Member Berries". | 2 |
| | Akira | | Akira was mentioned in the episode "Member Berries". | 2 |
| | Alien Nation | | Alien Nation was mentioned in the episode "Member Berries". | 2 |
| | The Six Million Dollar Man | | Bionic Man was mentioned in the episode "Member Berries". | 2 |
| | Counter-Strike | | Counter-Strike was mentioned in the episode "Skank Hunt". | 2 |
| | Jurassic Park | | Jurassic Park was mentioned in the episode "Skank Hunt". | 2 |
| | The Goonies | | The Goonies was mentioned in the episode "The Damned". | 2 |
| | James Bond | | James Bond was mentioned in the episode "Oh Jeez!". | 2 |
| | Yuri on Ice | | Yuri on Ice is mentioned by TROLLTRACE.com in the South Park episeode "The End of Serialization as We Know It". Also, in the season finale of Yuri on Ice, there is a character that dresses up like Eric Cartman. | 2 |
| | Rick and Morty | | South Park is mentoined in the Rickchurian Mortydate episode. | 2 |
| | Assassin's Creed | | The New Kid can dress in an Ezio costume in the game "The Fractured But Whole". | 2 |
| | Zelda | | In South Park's Imaginationland episodes there are characters resembling Link and Ganondorf; Kenny's princess costume in South Park: the Stick of Truth is based on Princess Zelda. Legend of Zelda was mentioned in South Park: The Fractured But Whole. | 2 |
| | Froot Loops | | Toucan Sam was mentioned by Memberberries in South Park: The Fractured But Whole. | 2 |
| | Street Fighter | | In South Park's episode "Imaginationland Episode II" there's a character resembling Akuma. Chung Lee's thighs were mentioned by Memberberries in South Park: The Fractured But Whole. | 2 |
| | Shimmer & Shine | | Shimmer & Shine were mascots in the episode "Hummels & Heroin." | 2 |
| | Peppa Pig | | Peppa Pig was a mascot in the episode "Hummels & Heroin." | 2 |
| | Stranger Things | | Stranger Things was mentioned in the South Park episode "Splatty Tomatoes". | 2 |
| | It (Stephen King) | | It was mentioned in the South Park episode "Splatty Tomatoes". | 2 |
| | Black Panther | | Black Panther was mentioned in the South Park Episode "Dead Kids". | 2 |
| | PAW Patrol | | One of the kids has a lunchbox with Chase in it in the South Park episode "Dead Kids". | 2 |
| | Looney Tunes | | The PC babies were crying over a doctor wearing a Speedy Gonzalez shirt in the South Park episode "The Problem with a Poo". | 2 |
| | Red Dead | | Red Dead Redemption II has been referenced a lot in the South Park episode "Time to Get Cereal". | 2 |
| | Joker | | Kyle makes a reference to Joker in the episode "Mexican Joker". | 2 |
| | Winnie the Pooh | | Pooh gets mocked up for looking like the Chinese President in the episode "Band in China". | 2 |
| | Moana | | PC Principal rejects kids dressing up as Moana in the episode "Tegridy Farms Halloween Special". | 2 |
| | Disney's Mulan | | The PC babies cry over Mulan when watching her from Disney+. | 2 |
| | Dungeons & Dragons | | Dice Studz played "Dungeons & Dragons" in the episode "Board Girls". | 2 |