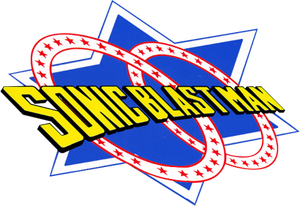 For detailed information about this series, see: Sonic Blast Man at Wikipedia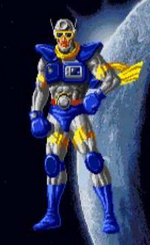 Sonic Blast Man is an action video game series by Taito.
Video games
Sonic Blast Man (1990). An Arcade game with a punching pad and gloves for its controls.
Sonic Blast Man (September 25, 1992). A beat'em up for the SNES.
Real Puncher (1994). Sequel to the Arcade game.
Sonic Blast Man II (March 18, 1994). Sequel to the SNES game.
Sonic Blast Heroes (February 25, 2011). A follow-up to the Arcade punching games. Known as Real Puncher 2 in Europe. Received an upgrade in 2012 titled Sonic Blast Heroes Dash.
Links to other series
| Direction | Series | Date | Description | Type |
| --- | --- | --- | --- | --- |
| | Kyuukyoku Harikiri Stadium | | One of the players in the "Taito Planets" team from Super Kyuukyoku Harikiri Stadium 2 is named "Blastman", after the series. | 3 |
| | Bubble Bobble | | Sonic Blast Man appears as a playable character in Puzzle Bobble 3. | 1 |
| | Power Shovel | | A Sonic Blast Man doll is one of the items to buy in the "Be a good buyer!" mini-game from Power Shovel. | 2 |
| | Furu Furu Park | | Sonic Blast Man is featured as a minigame (named "Sonic Blast Man 20XX") in Furu Furu Park. | 2 |
| | Space Invaders | | Sonic Blast Man appears as one of the characters providing assist attacks in Arkanoid vs. Space Invaders. | 1 |
| | Arkanoid | | Sonic Blast Man appears as one of the characters providing assist attacks in Arkanoid vs. Space Invaders. | 1 |