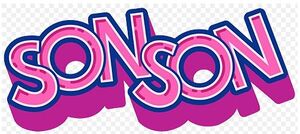 For detailed information about this series, see: SonSon at Capcom Database.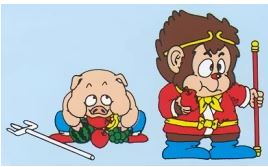 SonSon is a patform video game series by Capcom.
Video Games
SonSon (July 1984). Arcade. Later released on mobile phones. Re-released for the Wii Virtual Console in Japan on September 7, 2010; in North America on December 6, 2010 and in the PAL region on December 17, 2010.
SonSon II (January 27, 1989). TurboGrafx-16.
Links to other series
| Direction | Series | Date | Description | Type |
| --- | --- | --- | --- | --- |
| | Vulgus | | The Yashichi enemy from Vulgus appears as an item in SonSon. | 3 |
| | Exed Exes | | " SON SON " is one of the random placeholder names in the hi-score screen in Exed Exes. | 3 |
| | Commando (Capcom) | | "SON.SON" is one of the default names in the hi-score screen in Commando. | 3 |
| | Gun.Smoke | | The Dragonfly enemy from SonSon appears as an item in Gun.Smoke. | 2 |
| | Side Arms | | "SONSON" is one of the default names in the hi-score screen in Side Arms. | 3 |
| | 194X | | The dragonfly and bamboo sprout from SonSon appear as items in several games of the 194X series. | 2 |
| | Forgotten Worlds | | A golden bamboo sprout from SonSon appears as an item in Forgotten Worlds. | 2 |
| | Black Tiger | | Black Tiger features the Spin Skull enemy from SonSon; Black Tiger was later used as the basis for SonSon II, and thus both games share some gameplay elements and enemies. | 1 |
| | Capcom Baseball | | One of the players in the "Capcom Games" team is named "Sonson", after the series. | 3 |
| | Puzzle Fighter | | Sonson makes a cameo in Chun-Li's stage from Super Puzzle Fighter II Turbo. | 1 |
| | Pocket Fighter | | Sonson, Tonton and Suisui make a cameo appearance in Pocket Fighter. | 1 |
| | Capcom Generations | | Capcom Generations 3 includes SonSon. | 2 |
| | Strider | | Sonson appears as an item in Strider 2. | 3 |
| | Dimahoo | | A golden Bamboo Sprout and Dragonfly enemy from SonSon appear as secret items in Dimahoo. | 2 |
| | Marvel vs. Capcom | | Sonson from Marvel vs. Capcom 2 is the granddaughter of the first game's Sonson. | 1 |
| | SNK vs. Capcom | | Sonson and Tonton from SonSon are featured in SNK vs. Capcom: Card Fighters 2. | 2 |
| | Power Pro Kun Pocket | | A character in Power Pro Kun Pocket 7 is named after Sonson. | 3 |
| | Capcom Classics Collection | | SonSon is included in Capcom Classics Collection and Capcom Classics Colection Reloaded. | 2 |
| | Zack & Wiki | | Three of the mysterious treasures in Zack & Wiki: Quest for Barbaros' Treasure are trophies of the Son Son, Ton Ton and Sui Sui sprites from SonSon, and one of the Bonelich's minigames songs is the game's stage 1 theme. | 2 |
| | 3D Dot Game Heroes | | 3D Dot Game Heroes features a loading screen based on SonSon. | 3 |
| | Lost Planet | | "Son Son" is one of the unlockable Nom de Guerres in Lost Planet 2. | 2 |
| | Mega Man | | Sonson's sprite is part of Arcade Man's attack in Rockman Xover. | 2 |
| | Resident Evil | | The stage "Urban Chaos" from the Mercenaries mode in Resident Evil 6 features several SonSon Arcade cabinets. | 2 |
| | Minna to Series | | Minna to Capcom All Stars and Street Fighter × All Capcom feature characters from SonSon. | 1 |
| | Street Fighter | | Sonson and Tonton are selectable in Street Fighter × All Capcom; a store named "Sonson" also appears in the background of Ryu's and Guy's stages in Street Fighter Zero. | 1 |
| | Capcom Arcade | | SonSon is included in Capcom Arcade Cabinet as part of the "Game Pack 5". | 2 |
| | Otoranger | | The logo and artwork for the "Winter Superhuman Festival" event in Otoranger is inspired by SonSon. | 3 |
| | RYU-TMR no Rege Kaitai Gekijō | | Alex Kidd appears dressed like SonSon in RYU-TMR no Rege Kaitai Gekijō. | 2 |