For detailed information about this series, see: Shovel Knight Wiki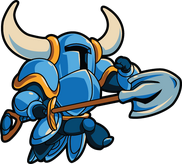 Shovel Knight is an indie platformer game by Yacht Club Games.
Video Games
Shovel Knight (June 26, 2014), PC, 3DS, Wii U, Mac, PlayStation Network, and Nintendo Switch.
amiibo
Wave 1 (December 11, 2015): consisting in one single Shovel Knight amiibo.
Wave 2 (April 9, 2019): consisting in three amiibo: Specter Knight, Plague Knight, King Knight.
Links to Other Series
Mascot link: The Baz makes an appearance in Shovel Knight.
| Direction | Series | Date | Description | Type |
| --- | --- | --- | --- | --- |
| | Adventures of Pip | | Shovel Knight makes a cameo in an updated version of Adventures of Pip. | 1 |
| | Two Brothers | | Shovel Knight makes a cameo in an updated version of Two Brothers. | 1 |
| | Super Indie Karts | | Shovel Knight was going to be a playable character in Super Indie Karts. | 1 |
| | Road Redemption | | Shovel Knight is a playable character in Road Redemption. | 1 |
| | Cook, Serve, Delicious! | | Shovel Knight is a playable character in Cook, Serve, Delicious!. | 1 |
| | God of War | | In the Playstation version of Shovel Knight, Kratos from God of War appears as a boss. | 1 |
| | The Reward: Tales of Alethrion | | Shovel Knight makes a brief appearance in the episode "The First Hero". | 1 |
| | C-Wars | | Shovel Knight will make a cameo in the upcoming C-Wars. | 1 |
| | Battletoads | | The Battletoads appear in the Xbox One version of Shovel Knight. | 1 |
| | Runbow | | Shovel Knight is a playable character in Runbow. | 1 |
| | ASDAD: All-Stars Dungeons and Diamonds | | Shovel Knight is a playable character in ASDAD: All-Stars Dungeons and Diamonds. | 1 |
| | Mutant Mudds | | Shovel Knight is a playable character in Mutant Mudds Super Challenge. | 1 |
| | Dino Run | | Dino Run DX features a hat based on Shovel Knight. | 2 |
| | Hex Heroes | | Shovel Knight will be a playable character in the upcoming Hex Heroes. | 1 |
| | Azure Striker Gunvolt | | Using a Shovel Knight amiibo in Azure Striker Gunvolt 2 allows the player to fight Shovel Knight. | 1 |
| | Creepy Castle | | Plague Knight from Shovel Knight appears in Creepy Castle. | 1 |
| | Yooka-Laylee | | Shovel Knight appears as a character in the game Yooka-Laylee. | 1 |
| | Blaster Master | | Shovel Knight is a downloadable character for Blaster Master Zero. | 1 |
| | Aegis Defenders | | Shovel Knight makes an appearance in Aegis Defenders. | 1 |
| | Bit.Trip | | Shovel Knight is in Runner3. | 1 |
| | Indie Pogo | | Shovel Knight is a playable character in Indie Pogo. | 1 |
| | Blade Strangers | | Shovel Knight is a playable character in Blade Strangers. | 1 |
| | Rivals of Aether | | Shovel Knight is a downloadable fighter in Rivals of Aether. | 1 |
| | Brawlhalla | | Shovel Knight characters and weapons appear in Brawlhalla. | 1 |
| | Super Smash Bros. | | Shovel Knight appears as an Assist Trophy in Super Smash Bros. Ultimate and various characters from the series also appear as spirits. | 1 |