For detailed information about this series, see: Shin Onigashima at Wikipedia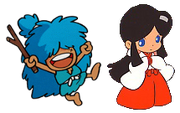 Shin Onigashima is a series of adventure video games by Nintendo.
The plot is about two children, Donbe and Hikari, who are found and raised by an elderly couple. When a dragon appears and starts transforming people into oni, while stealing the souls of others, including Donbe and Hikari's parents, the two children embark on an adventure to save their adoptive parents.
Two games were released:
Famicom Mukashibanashi: Shin Onigashima (September 1987), Famicom Disk System. The original game, it was released in two disks: with Disk 1 released on September 4 and Disk 2 released on September 30. The full game was re-released in 2004 for Game Boy Advance, in 2007 for Wii Virtual Console and in 2013 for 3DS Virtual Console and Wii U Virtual Console.
BS Shin Onigashima (September 29, 1996), Super Famicom. Retelling the events of the original game from other characters' perspective. Originally only available during broadcast on the Satellaview system, it was released as Heisei Shin Onigashima on December 1, 1997 through the Nintendo Power download system, with the original Disk System game also included, then in cartridge form on May 23, 1998. It was also released in 2010 for Wii Virtual Console and in 2014 for Wii U Virtual Console.
Links to other series
| Direction | Series | Date | Description | Type |
| --- | --- | --- | --- | --- |
| | Yuyuki | | Donbe, Kintaro and Tengu from Shin Onigashima make a cameo in Yuyuki. | 1 |
| | Mario | | A golden Mario statue appears in BS Shin Onigashima, while Super Mario Maker features costumes based on Donbe and Hikari from Shin Onigashima. | 2 |
| | Kirby | | Donbe and Hikari from Shin Onigashima make a cameo in Kirby's Dream Land 3. | 1 |
| | Daigasso! Band Brothers | | Daigasso! Band Brothers DX features music from Shin Onigashima. | 2 |
| | Captain Rainbow | | Hikari from Shin Onigashima makes an appearance in Captain Rainbow. | 1 |
| | Super Smash Bros. | | Donbe & Hikari from Shin Onigashima appear as spirits in Super Smash Bros. Ultimate; they are also a trophy in Super Smash Bros. Melee, while Donbe is a stiker in Brawl. | 1 |