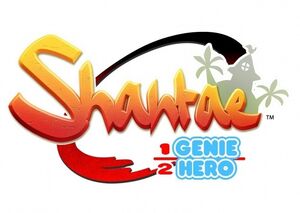 For detailed information about this series, see: Shantae Wiki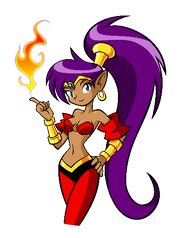 Shantae is a 2D platform video game series by WayForward Technologies.
Video Games
Shantae (July 2, 2002), Game Boy Color. Re-released for the 3DS Virtual Console in 2013.
Shantae: Risky's Revenge (October 4, 2010), DSiWare. Later released for iOS and PC.
Shantae and the Pirate's Curse (October 23, 2014), Nintendo 3DS and Wii U. Later released for PC.
Shantae: Half-Genie Hero (December 20, 2016), PlayStation 3, PlayStation 4, PlayStation Vita, Xbox 360, Xbox One, Wii U and PC. Later released for Nintendo Switch.
Links to other series
| Direction | Series | Date | Description | Type |
| --- | --- | --- | --- | --- |
| | Wario | | The DLC microgame "Shantae NAB!" from WarioWare D.I.Y is based on the Shantae series. | 2 |
| | Contra | | Shantae: Risky's Revenge features a dialogue reference to the intro of Super Contra. | 3 |
| | Castlevania | | Shantae: Risky's Revenge features a dialogue reference to one of the obtuse hints in Castlevania II: Simon's Quest. | 3 |
| | DuckTales | | A menu screen showing Shantae can be found buried within the code of DuckTales: Remastered. | 3 |
| | Karnov | | The nameless warrior from Shantae and the Pirate's Curse references Karnov in his shape, vague backstory details and a very similar music theme. | 3 |
| | He-Man | | The character Bran-Son from Shantae and the Pirate's Curse is a parody of He-Man. | 3 |
| | Ghostbusters | | Shantae and the Pirate's Curse features a dialogue reference to Ghostbusters. | 3 |
| | Star Wars | | The "space princess" outfit Shantae and other characters wear during a part of Shantae and the Pirate's Curse is based on Leia's slave costume from Star Wars: The Return of the Jedi. | 3 |
| | Hyper Light Drifter | | The Drifter was set to appear in a special sidequest in Shantae: Half-Genie Hero, while Risky Boots was set to appear in a special sidequest in Hyper Light Drifter. | 1 |
| | Skullgirls | | One of the alternate color palettes in Skullgirls is based on Shantae. | 3 |
| | Watch Quest! | | Watch Quest! features characters from the Shantae series. | 1 |
| | Mutant Mudds | | Shantae is a playable character in Mutant Mudds Super Challenge. | 1 |
| | Nikki | | A ghost named "Ikki" in the game Shantae: Half-Genie Hero is a reference to Nikki. | 3 |
| | Runbow | | Shantae is a downloadable character in Runbow. | 1 |
| | Blaster Master | | Shantae is a downloadable character for Blaster Master Zero, while a free update in Shantae: Half-Genie Hero added a Sophia the 3rd transformation to Shantae's repertoire. | 1 |
| | Indivisible | | Shantae is a planned guest character in Indivisible. | 1 |
| | Mighty Series | | The Import Room in Shantae: Risky's Revenge provides rewards based on progress done in either Mighty Flip Champs! and Mighty Milky Way, while the "Officer" costume DLC from Shantae: Half-Genie Hero is based on Patricia Wagon from Mighty Switch Force!, including abilities and other elements from the series. | 1 |
| | Super Smash Bros. | | Shantae and Risky Boots appear as spirits in Super Smash Bros. Ultimate. | 1 |