For detailed information about this series, see: Rayman Wiki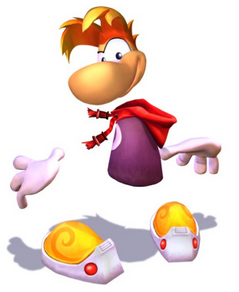 Rayman is a video game series by Ubisoft.
Video games
Rayman (September 1st, 1995) for PlayStation, Jaguar, Sega Saturn, MS-DOS, and Game Boy Color. Re-released in 2018 within PlayStation Classic in North America and Europe.
Rayman 2: The Great Escape (October 29th, 1999) for N64, PC, Dreamcast, PlayStation, PS2, and Game Boy Color.
Rayman 3: Hoodlum Havoc (February 21st, 2003) for PC, GameCube, Xbox, PS2, GBA, Mac, and N-Gage.
Rayman Origins (November 15th, 2011) for PC, Wii, PS3, Xbox 360, PS Vita, 3DS, and Mac.
Rayman Legends (August 29th, 2013) for PC, PS3, PS4, Xbox 360, PS Vita, Wii U, Xbox One, and Nintendo Switch.
TV
Rayman: The Animated Series (1999-2000)
Rabbids: A series about michievious rabbits.
Links to other series
| Direction | Series | Date | Description | Type |
| --- | --- | --- | --- | --- |
| | Tonic Trouble | | Rayman makes an appearance in Tonic Trouble. | 1 |
| | Beyond Good & Evil | | A mosquito from the Rayman series makes a cameo appearance in Beyond Good and Evil. | 1 |
| | Asterix | | In Asterix & Obelix XXL 2: Mission: Las Vegum there are Rayman references. | 3 |
| | Rabbids | | Rabbids is a spinoff of Rayman. | 1 |
| | Academy of Champions | | Rayman makes an appearance in Academy of Champions: Football. | 1 |
| | Splinter Cell | | The Xbox 360 version of Rayman Legends features exclusive costumes based on Splinter Cell. | 2 |
| | Assassin's Creed | | The PS3/PS4 version of Rayman Legends features exclusive costumes based on Assassin's Creed. | 2 |
| | Mario | | The Wii U and Nintendo Switch version of Rayman Legends features exclusive costumes based on Mario & Luigi; there also are minor Mario references in Rayman Raving Rabbids 2. | 2 |
| | Plok | | The comic Plok: The Exploding Man features a reference to Rayman. | 2 |
| | UNO | | Rayman DLC was added to UNO, with Rayman characters interacting with the main game. | 1 |
| | Brawlhalla | | Rayman is a playable character in Brawlhalla. | 1 |
| | Super Smash Bros. | | Rayman appears as a spirit in Super Smash Bros. Ultimate; Rayman, Globox and Barbara appear as trophies in Super Smash Bros. for Wii U. | 1 |