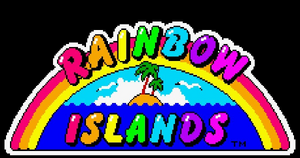 For detailed information about this series, see: Rainbow Islands at Bubble Bobble Wiki
Rainbow Islands is a side-scrolling platform video game series by Taito, and a spin-off series of Bubble Bobble featuring their main characters in human form. The main difference in gameplay is the use of rainbows as weapons instead of bubbles.
Video games
Rainbow Islands: The Story of Bubble Bobble II (October 1987). Arcade. Later released on NES, Amiga, Atari ST, Amstrad CPC, Commodore 64, XZ-Spectrum, PC-Engine, Sega Master System, Game Boy Color, PC and mobile phones.

Rainbow Islands Extra Edition (March 1988). Arcade. A modified version with different stage order and enemy placement. Later released on Sega Mega Drive and FM-TOWNS (as Rainbow Islands Extra).

Rainbow Islands: Putty's Party (June 29, 2000). WonderSwan.
Rainbow Islands Revolution (December 29, 2005). Nintendo DS.
Rainbow Islands Evolution (February 8, 2007). PlayStation Portable.
Rainbow Islands: Towering Adventure!! (March 3, 2009). WiiWare and Xbox Live Arcade.
Links to other series
| Direction | Series | Date | Description | Type |
| --- | --- | --- | --- | --- |
| | Bubble Bobble | | The Rainbow Islands series is a spin-off of Bubble Bobble. | 1 |
| | Arkanoid | | Rainbow Islands: The Story of Bubble Bobble 2 includes an island ("Doh's Island") based off Arkanoid, with several enemies and DOH as the final boss; Bubby is one of the characters providing assist attacks in Arkanoid vs. Space Invaders. | 1 |
| | Darius | | The world of Darius is featured as an island ("Darius Island") in Rainbow Islands: The Story of Bubble Bobble 2, including appearances of enemies and Electric Fan and King Fossil (former/NES port) as area bosses. | 1 |
| | The Fairyland Story | | Rainbow Islands: The Story of Bubble Bobble 2 includes an island ("Magical Island") based off The Fairyland Story, with appearances of several enemies and Horned as the final boss, with Ptolemy making a cameo in the Game Boy Color port. | 1 |
| | Metal Soldier Isaac | | The enemies Isaac'n and Super Isaac'n are based on the main character of Metal Soldier Isaac II. | 3 |
| | Pocky & Rocky | | The world of Kiki KaiKai is featured as an island ("Kiki KaiKai Island") in the NES port of Rainbow Islands: The Story of Bubble Bobble 2, including appearances of Sayo-chan/Pocky, enemies and Manuke/Rocky as the area boss. | 1 |
| | Cameltry | | Bubby from Rainbow Islands appears in Cameltry holding a 1000 Pts sign if the player reaches the goal with more than 60 seconds on the clock. | 1 |
| | Space Invaders | | Stage 4 in the Parody Mode of Space Invaders DX is based on Rainbow Islands and features a playable Bubby; and Bubby is one of the characters providing assist attacks in Arkanoid vs. Space Invaders. | 1 |
| | Pop n' Pop | | Characters from Rainbow Islands appear in Pop n' Pop. | 1 |
| | Taito Legends | | Taito Legends includes Rainbow Islands. | 2 |
| | Taito Memories | | Taito Memories Pocket, II Gekan and II Joukan include Rainbow Islands. | 2 |
| | The NewZealand Story | | Bob, Bub, Mike and Violet from Rainbow Islands Revolutions appear as captured friends in The NewZealand Story Revolution. | 1 |