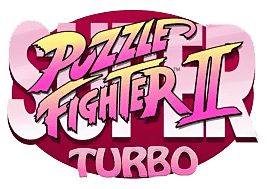 For detailed information about this series, see: Puzzle Fighter on Wikipedia
Puzzle Fighter is a tile-matching puzzle game by Capcom.
Video Games
Super Puzzle Fighter II Turbo (May 31, 1996). Arcade. Later released on PlayStation, Sega Saturn, Dreamcast, Game Boy Advance and mobile phones. The PlayStation version was also re-released in 2018 within PlayStation Classic.
Super Puzzle Fighter II Turbo HD Remix (August 29, 2007). PlayStation 3 and Xbox 360. An upgraded version with several new features.
Puzzle Fighter (November 22, 2017 - July 31, 2018). iPhone, iOS and Android.
Links to other series
| Direction | Series | Date | Description | Type |
| --- | --- | --- | --- | --- |
| | Street Fighter | | Super Puzzle Fighter II Turbo and Puzzle Fighter feature various characters from Street Fighter, while a man can be seen playing the game in the 3rd issue of the Street Fighter Legends: Sakura comic book. | 1 |
| | Darkstalkers | | Various Darkstalkers characters are selectable in Super Puzzle Fighter II Turbo and Puzzle Fighter. | 1 |
| | Cyberbots | | Devilot from Cyberbots is selectable in Super Puzzle Fighter II Turbo and Puzzle Fighter. | 1 |
| | SonSon | | Sonson makes a cameo in Chun-Li's stage from Super Puzzle Fighter II Turbo. | 1 |
| | Quiz Nanairo Dreams | | Charlotte's dungeon in Quiz Nanairo Dreams uses an edited version of the background from Devilot's stage in Super Puzzle Fighter II Turbo. | 3 |
| | Pocket Fighter | | Pocket Fighter is a spin-off of Puzzle Fighter. | 1 |
| | Marvel vs. Capcom | | Morrigan and Ryu start playing Super Puzzle Fighter II Turbo in the former's ending from Marvel vs. Capcom. | 2 |
| | Mortal Kombat | | "Puzzle Kombat" from Mortal Kombat: Deception is inspired by Super Puzzle Fighter II Turbo. | 3 |
| | Capcom Puzzle World | | Super Puzzle Fighter II Turbo is included in Capcom Puzzle World. | 2 |
| | Capcom Arcade | | Super Puzzle Fighter II Turbo is included in Capcom Arcade. | 2 |
| | Final Fight | | Statues of Haggar appear in Chun-Li's stage from Super Puzzle Fighter II Turbo, Haggar is a playable character in Puzzle Fighter. | 1 |
| | Devil May Cry | | Dante from Devil May Cry is a playable character in Puzzle Fighter. | 1 |
| | Resident Evil | | Jill Valentine from Resident Evil 5 and Ada Wong are playable characters in Puzzle Fighter. | 1 |
| | Mega Man | | Mega Man X, Servbot and Dr. Wily are playable characters in Puzzle Fighter. | 1 |
| | Dead Rising | | Frank West and Chuck Greene from Dead Rising are playable characters in Puzzle Fighter, while a poster of Super Puzzle Fighter Turbo II is a collectible in the "Capcom Heroes" mode from Dead Rising 4: Frank's Big Package. | 1 |
| | Ōkami | | The Ninetails Arena from Ōkami is a stage in Puzzle Fighter. | 1 |
| | Power Stone | | The Royal Heaven Airship from Power Stone 2 is a stage in Puzzle Fighter. | 1 |
| | Viewtiful Joe | | Viewtiful Joe and Alastor are playable characters in Puzzle Fighter | 1 |
| | Ace Attorney | | Phoenix Wright from Ace Attorney is a playable character in Puzzle Fighter | 1 |
| | Monster Hunter | | The gameplay of Felyne de Puzzle is based on Super Puzzle Fighter II Turbo, Val Habar from Monster Hunter 4 is a stage in Puzzle Fighter. | 1 |
| | Dino Crisis | | Regina from Dino Crisis is a playable character in Puzzle Fighter | 1 |
| | Red Earth | | Darminor from Red Earth is a stage in Puzzle Fighter. | 1 |