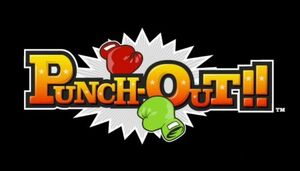 For detailed information about this series, see: The Punch-Out!! Wiki
Punch-Out!! is a series of boxing games by Nintendo starring the young boxer named Little Mac. The first episode in the series was released in 1984, and the last was released in 2009. In these 25 years the series has been rebooted two times, so it can be divided in three sub-series.
Video Games
Arcade era
Punch-Out!! (july 31, 1984), Arcade. Re-released for Nintendo Switch in the Arcade Archives series on March 30, 2018.
Punch-Out!! (september 3, 1984), Game & Watch Micro Vs. Actually a re-release of Boxing.
Super Punch-Out!! (december 1985), Arcade.
NES era
Punch-Out!! (april 1, 1987), Famicom. Only released in Japan as a prize for a competition.
Mike Tyson's Punch-Out!! (october 1987), NES. Identical to the original game, but Mike Tyson was added as the final opponent.
Punch-Out!! Featuring Mr. Dream (august 1990), Famicom/NES. A version of Mike Tyson's Punch-Out!! featuring the titular character changed to the original Mr. Dream, released after the rights to use Mike Tyson's name and likeness expired, this version was also released outside Japan simply as Punch-Out!!. This version was released in 2007 for Wii Virtual Console, in 2012 for 3DS Virtual Console and in 2013 for Wii U Virtual Console. It was also enclosed in the NES Classic Edition in North America and Europe.
Super Punch-Out!! (october 1994), SNES. Re-released in 2009 for Wii Virtual Console. Starring a different Little Mac, is considered by many a separate reboot to the series. The opponents however are mostly the ones from the arcade Super Punch Out!! that were not in the NES game, so this is assumed to be the sequel to it gameplay-wise.
Wii era
Punch-Out!! (may 18, 2009), Wii. Re-released for Wii U as a digital download in 2015.
Doc Louis's Punch-Out!! (october 27, 2009), WiiWare. Only available for Club Nintendo Platinum members.
Comics
A series of Punch-Out!! comics have been published on issues 5 and 9 of Nintendo Comics System.
Merchandise
A series of action figures and a series of trading cards based on the NES game were released in 1989.
Links to other series
Note: games with a gameplay similar to Punch-Out!! such as Teleroboxer and Wade Hixton's Counter Punch are not considered linked to this series, unless they feature specific references.
| Direction | Series | Date | Description | Type |
| --- | --- | --- | --- | --- |
| | Mario | | Mario and Luigi make an appearance in the audience in the arcade game Punch-Out!!; Mario is also the referee in Punch-Out!! for the NES. | 1 |
| | Donkey Kong | | Donkey Kong and Donkey Kong Jr. make an appearance in the audience in the arcade game Punch-Out!!; Donkey Kong is a secret opponent in Punch-Out!! for Wii. | 1 |
| | Boxing (G&W) | | The Game & Watch Punch-Out!! is a re-release of Boxing. | 1 |
| | Arm Wrestling (Nintendo) | | Arm Wrestling is a spin-off of Punch-Out!! starring the same protagonist; Bald Bull from Punch-Out!! also makes an appearance. | 1 |
| | Frank Bruno's Boxing | | Frank Bruno's Boxing is based on the arcade Super Punch-Out!!. | 3 |
| | Golf (Nintendo) | | The Famicom Punch-Out!! was originally given out as prize for a Golf US Course competition. | 3 |
| | Captain N | | King Hippo is a recurring character in the Captain N TV show, while Glass Joe makes a cameo in the episode "Videolympics". Little Mac makes an appearance in the Captain N comic. | 1 |
| | Power Punch | | Power Punch II was originally created as a sequel to Mike Tyson's Punch-Out!!. | 3 |
| | Tekken | | The PlayStation version of Tekken 2 features a secret mode that uses the same gameplay as Punch-Out!!. | 3 |
| | Fight Night | | The GameCube version of Fight Night Round 2 features Little Mac from the SNES game Super Punch-Out!! as an unlockable boxer. | 1 |
| | Scott Pilgrim | | Scott Pilgrim & The Infinite Sadness features a character looking like King Hippo from Punch-Out!! in one of the extra strips. | 3 |
| | Avatar (Nick) | | The Big Bad Hippo from the episode "The Blind Bandit" of Avatar: The Last Airbender may be based on King Hippo. | 3 |
| | Tingle | | The fight with Captain Stalfos in Freshly-Picked Tingle's Rosy Rupeeland is based on the arcade Punch-Out!! | 3 |
| | Wario | | A microgame version of the NES Punch-Out!! is featured in WarioWare: Smooth Moves. | 2 |
| | Super Smash Bros. | | Little Mac from Punch-Out!! appears as an Assist Trophy in Super Smash Bros. Brawl and as a playable character in Super Smash Bros. for Nintendo 3DS and for Wii U with a stage based on the series. | 1 |
| | Captain Rainbow | | Little Mac from the NES game Punch-Out!! makes an appearance in Captain Rainbow. | 1 |
| | Animal Crossing | | In a DLC for the European version of Animal Crossing: City Folk, Little Mac sends a letter and a gift to the player's character; Punch-Out!! Featuring Mr. Dream is also featured as an unlockable playable game in Dobutsu no Mori+ and its revisions. | 1 |
| | Super KO Boxing 2 | | Super KO Boxing 2 is based on Punch Out!!. | 3 |
| | 3D Dot Game Heroes | | 3D Dot Game Heroes features a loading screen based on Mike Tyson's Punch-Out!!. | 3 |
| | Video Game High School | | The "High School Video Game" shown in the Video Game High School episode "Double XP Weekend" features a level based on Punch-Out!!. | 3 |
| | NES Remix | | NES Remix 2 includes challenges based on Punch-Out!!. | 2 |
| | Plok | | The comic Plok: The Exploding Man features a reference to Punch-Out!! | 3 |
| | Pop Team Epic | | There's a minor reference to Punch-Out!! in episode 3 of Pop Team Epic. | 3 |