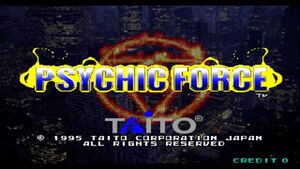 For detailed information about this series, see: Psychic Force at Wikipedia
Psychic Force is a 3D fighting video game series by Taito.
Video games
Psychic Force (April 1996). Arcade.

Psychic Force EX (July 1996). Arcade. An updated version with gameplay rebalancing and other minor changes.
Psychic Force (October 4, 1996). A port of EX for PlayStation, most notably adding a Story Mode.

Psychic Force Puzzle Taisen (October 2, 1997). PlayStation. A format crossover between Puzzle Bobble and Psychic Force.
Psychic Force 2012 (June 1998). Arcade. Later released on Dreamcast and PC. Rereleased on 2008 for PlayStation Network.

Psychic Force 2 (October 7, 1999). PlayStation. An enhanced port including 3 extra characters and several game modes.

Psychic Force Complete (December 29, 2005). PlayStation 2. A compilation including the first game and a remixed version of 2012 titled Psychic Force 2012 EX.
Animation
Psychic Force (May 25, 1998). A 2-episode OVA animation.
Novel
Links to other series
| Direction | Series | Date | Description | Type |
| --- | --- | --- | --- | --- |
| | Kaiser Knuckle | | Psychic Force was originally developed as a sequel to Kaiser Knuckle. | 3 |
| | Kirameki Star Road | | The characters in Kirameki Star Road cosplay as Wendy, Emilio and Sonia from Psychic Force while attending an anime convention. | 2 |
| | Bubble Bobble | | Psychic Force Puzzle Taisen is a format crossover featuring characters from Psychic Force and gameplay elements from Puzzle Bobble. | 1 |
| | Rakugaki Oukoku | | Burn Griffiths (Barn. G in English) from Psychic Force is a graffiti creature in Magic Pengel: The Quest for Color. | 1 |
| | Daifugo Party | | Emilio from Psychic Force is a playable character in Daifugo Party. | 1 |
| | Music GunGun! | | Music from Psychic Force 2012 is featured in Music GunGun! Kyoku ga Ippai Chou Zoukaban. | 2 |
| | Groove Coaster | | Groove Coaster features a remix of the theme "On the Verge of Revival" from Psychic Force. | 2 |
| | Space Invaders | | Burn, Emilio, Keith and Wendy from Psychic Force appear among the characters providing assist attacks in Arkanoid vs. Space Invaders. | 1 |
| | Arkanoid | | Burn, Emilio, Keith and Wendy from Psychic Force appear among the characters providing assist attacks in Arkanoid vs. Space Invaders. | 1 |