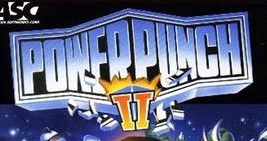 For detailed information about this series, see: Power Punch II at Punch-Out!! Wiki
Power Punch is a series of videogames by American Softworks, consisting in one single videogame: Power Punch II, released on June 12, 1992 for the NES only in North America. The game is a boxing videogame putting the player in the role of a boxing champion who enters the Intergalactic Boxing Federation to compete against the strongest boxers in the Universe.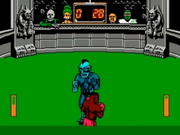 The game, and by extension the series is considered a spin-off to the Punch-Out!! series, since it was originally created as a sequel to Mike Tyson's Punch-Out!! starring the titular real-life boxer and titled Mike Tyson's Intergalactic Power Punch. The game would also feature Tyson's famous promoter Don King. While the game was developed, though, Tyson started legal troubles, so the game was retitled and the protagonist was changed to the similarly named Mark Tyler. Also Don King's trademark hair was removed, making his character bald. It's unclear why the final title features the number two, but the creators likely wanted to promote this game still as a sequel to Mike Tyson's Punch-Out!!
The gameplay of Power Punch II is still the same as Mike Tyson's Punch-Out!! with some additions, most notably a training stage at the beginning of the game.
Links to other series
| Direction | Series | Date | Description | Type |
| --- | --- | --- | --- | --- |
| | Punch-Out!! | | Power Punch II was originally created as a sequel to Mike Tyson's Punch-Out!!. | 3 |