For detailed information about this series, see: Pop Team Epic Wiki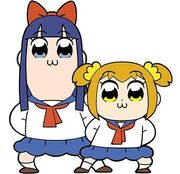 Pop Team Epic, also known as Poptepipic, is a surreal comedy series by Bkub Okawa, published by Takeshobo.
Manga
Pop Team Epic (August 29, 2014 - present). A 3-volume Yonkoma manga.
Anime
Pop Team Epic (January 7, 2018 - March 25, 2018). A 12-episode anime series by Kamikaze Douga.
Pop Team Epic Kinen (June 14, 2018). A webisode released by the Japan Racing Association as part of a promotional campaign on their website.
Links to other series
| Direction | Series | Date | Description | Type |
| --- | --- | --- | --- | --- |
| | Mario | | There are references to the Mario series in the Pop Team Epic manga and anime. | 2 |
| | Transformers | | There's a reference to Transformers in the Pop Team Epic manga. | 3 |
| | Dragon Ball | | There are references to Dragon Ball Z in the Pop Team Epic manga and anime. | 2 |
| | Mickey Mouse | | There are references to Mickey Mouse in the Pop Team Epic manga and anime. | 3 |
| | Super Smash Bros. | | There's a reference to Super Smash Bros. in the Pop Team Epic manga. | 2 |
| | Disney's Aladdin | | There's a reference to Aladdin in the Pop Team Epic manga. | 3 |
| | Zelda | | There's a reference to Zelda's Z-Targeting in the Pop Team Epic manga. | 2 |
| | Street Fighter | | There are several references to Street Fighter II in the Pop Team Epic manga and episode 8 of the anime. | 2 |
| | Jurassic Park | | There's a reference to Jurassic World in the Pop Team Epic manga. | 3 |
| | Your Name | | There's a reference to the poster of the anime film Your Name in episode 1 of Pop Team Epic. | 3 |
| | Chrono | | There's a minor reference to Chrono Trigger in episode 1 of Pop Team Epic. | 3 |
| | My Neighbor Totoro | | There's a reference to My Neighbor Totoro in episode 1 of Pop Team Epic. | 3 |
| | Rurouni Kenshin | | There's a minor reference to Rurouni Kenshin in episode 1 of Pop Team Epic. | 3 |
| | Berserk | | There's a minor reference to Berserk in episode 1 of Pop Team Epic. | 3 |
| | The Elder Scrolls | | There's a minor reference to The Elder Scroll V: Skyrim in episode 1 of Pop Team Epic. | 3 |
| | Guardians of the Galaxy | | There's a minor reference to Guardians of the Galaxy in episode 1 of Pop Team Epic. | 3 |
| | Macross | | There's a minor reference to Super Dimensional Fortress Macross in episode 1 of Pop Team Epic. | 3 |
| | Evangelion | | There are minor references to Neon Genesis Evangelion in episode 1 and 12 of Pop Team Epic. | 3 |
| | Hoshiiro Girldrop | | Hoshiiro Girldrop started out as a gag within the Pop Team Epic manga, became a regular fixture of its anime, and was later spun off into its own anthology comic in 2018. | 1 |
| | Kono Subarashii Sekai Ni Shukufuku O! | | There's a reference to Kono Subarashii Sekai Ni Shukufuku O! in episode 2 of Pop Team Epic. | 3 |
| | Super Robot Wars | | There's a minor reference to Super Robot Wars 4 in episode 2 of Pop Team Epic. | 3 |
| | Kirby | | A Pop Team Epic skit in Episode 2 of the anime features a menu screen similar to the one in Kirby Super Star. | 3 |
| | Ashita no Joe | | There's a minor reference to Ashita no Joe in episode 3 of Pop Team Epic. | 3 |
| | Punch-Out!! | | There's a minor reference to Punch-Out!! in episode 3 of Pop Team Epic. | 3 |
| | Mega Man | | There are minor references to Mega Man and Mega Man X in the Pop Team Epic manga and episode 3 anime. | 3 |
| | Cho Aniki | | There's a minor reference to Cho Aniki in episode 3 of Pop Team Epic. | 3 |
| | Gradius | | There's a minor reference to Gradius in episode 3 of Pop Team Epic. | 3 |
| | R-Type | | There's a minor reference to R-Type in episode 3 of Pop Team Epic. | 3 |
| | Fantasy Zone | | There's a minor reference to Fantasy Zone in episode 3 of Pop Team Epic. | 3 |
| | Ghosts 'n Goblins | | There's a minor reference to Ghosts 'n Goblins in episode 3 of Pop Team Epic. | 3 |
| | Wacky Races | | Characters resembling Dastardly and Mutley from Wacky Races appear in episode 4 of Pop Team Epic. | 3 |
| | Initial D | | A character resembling Takeshi Nakazato from Initial D appears in episode 4 of Pop Team Epic. | 3 |
| | Detective Conan | | There's a minor reference to Detective Conan in episode 4 and several references in episode 10 of Pop Team Epic. | 3 |
| | Yaiba | | There's a minor reference to Yaiba in episode 4 of Pop Team Epic. | 3 |
| | Kikaider | | The robot form featured in episode 4 of Pop Team Epic is designed after Kikaider. | 3 |
| | Tokimeki Memorial | | There's a minor reference to Tokimeki Memorial in episode 4 of Pop Team Epic. | 3 |
| | Donkey Kong | | There's a minor reference to Donkey Kong Country 2 in episode 4 of Pop Team Epic. | 3 |
| | Dragon Quest | | There's a minor reference to Dragon Quest in episode 4 of Pop Team Epic. | 3 |
| | Spelunker | | There are references to Spelunker in episode 4 of Pop Team Epic. | 3 |
| | Die Hard | | All three DVD release covers of the Pop Team Epic anime are parodies of Die Hard posters. | 3 |
| | Gundam | | There are references to Gundam in episodes 5 and 12 of Pop Team Epic. | 3 |
| | Takeshi's Challenge | | There's a minor reference to Takeshi's Challenge in episode 5 of Pop Team Epic. | 3 |
| | Hikaru no Go | | There are several references to Hikaru no Go in episode 6 of Pop Team Epic. | 2 |
| | Tekken | | Keicho Okusenman from the 6th episode of Pop Team Epic is a parody of Heihachi Mishima from Tekken. | 3 |
| | Space Oddyssey | | PP-1000 from episode 6 of Pop Team Epic is a parody of HAL-2000. | 2 |
| | Blade Runner | | There's a reference to the Tyrel Corporation building from Blade Runner in episode 6 of Pop Team Epic. | 3 |
| | Undertale | | There are several references to Undertale in episode 7 of Pop Team Epic. | 3 |
| | Robopon | | There's a minor reference to Robopon in episode 7 of Pop Team Epic. | 3 |
| | Kemono Friends | | There's an ad for Japari Park in episode 9 of Pop Team Epic, there are minor references in other episodes. | 2 |
| | Cardcaptor Sakura | | There's an ad for Cardcaptor Sakura in episode 9 of Pop Team Epic. | 2 |
| | Ghostbusters | | Popuko and Pipimi appear dressed like Ghostbusters and wielding proton packs in episode 9 of Pop Team Epic. | 2 |
| | Robocop | | A character resembling Robocop appears in episode 9 of Pop Team Epic. | 3 |
| | Terminator | | A character resembling the Terminator appears in episode 9 of Pop Team Epic. | 3 |
| | Final Fantasy | | Two characters resembling Noctis and Gladio from Final Fantasy XV appear in episode 9 of Pop Team Epic. | 3 |
| | Final Fight | | The mayor of New York greatly resembles Mike Haggar from Final Fight in episode 9 of Pop Team Epic. | 3 |
| | The Kindaichi Case Files | | There are several references to The Kindaichi Case Files in episode 10 of Pop Team Epic. | 3 |
| | The Shining | | The plot in one segment of the 11th episode of Pop Team Epic references The Shining. | 3 |
| | Death Crimson | | The intro of the 12th episode of Pop Team Epic is a parody of the opening of Death Crimson, created with the assistance of the original staff. | 3 |
| | Pokémon | | There are references to Pokémon in episodes 1, 7 and 12 of Pop Team Epic. | 2 |
| | Ace Attorney | | A Psycke-Lock from Ace Attorney appears in episode 12 of Pop Team Epic. | 3 |
| | Batman | | A Nendoroid set of Popuko and Pipimi dressed as Batman and the Joker from Batman Ninja was produced and accompanied by a short animated clip. | 2 |
| | My Melody | | My Melody and Pop Team Epic crossover in the Sanrio x Pop Team Epic August merchandise line. | 1 |
| | Little Twin Stars | | Little Twin Stars and Pop Team Epic crossover in the Sanrio x Pop Team Epic August merchandise line. | 1 |
| | Hangyodon | | Hangyodon and Pop Team Epic crossover in the Sanrio x Pop Team Epic August merchandise line. | 1 |
| | Pompompurin | | Pompompurin and Pop Team Epic crossover in the Sanrio x Pop Team Epic August merchandise line. | 1 |
| | Cinnamoroll | | Cinnamoroll and Pop Team Epic crossover in the Sanrio x Pop Team Epic September merchandise line. | 1 |
| | Jivexpress | | Jivexpress and Pop Team Epic crossover in the Sanrio x Pop Team Epic September merchandise line. | 1 |
| | MINNA NO TĀBŌ | | MINNA NO TĀBŌ and Pop Team Epic crossover in the Sanrio x Pop Team Epic September merchandise line. | 1 |
| | The Runabouts | | The Runabouts and Pop Team Epic crossover in the Sanrio x Pop Team Epic September merchandise line. | 1 |
| | Zashikibuta | | Zashikibuta and Pop Team Epic crossover in the Sanrio x Pop Team Epic September merchandise line. | 1 |