For detailed information about this series, see: Plok on Wikipedia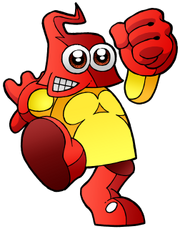 Plok, or Plok! is a series by the Pickford Brothers starring Plok, "the exploding man", a character that can launch his own limbs to attack enemes and perform various tasks.
Plok was created as a platform video game for Super Nintendo/Super Famicom, released in September 1993. It was published by Tradewest Games in North America, by Nintendo in Europe and by Activision in Japan (but the copyrights for it are held by the creators of the original concept, the Pickford Brothers).
A webcomic titled Plok: The Exploding Man serving as a sequel to the game, started on July 31, 2013, and is currently ongoing.
Links to other series
| Direction | Series | Date | Description | Type |
| --- | --- | --- | --- | --- |
| | Mario | | Plok is featured in the comic Super Mario: Verloren in der Zeit Part 3. One panel from the comic is then shown in page 96 of the webcomic Plok: The Exploding Man, and referenced again in page 117. | 1 |
| | Zaku | | Plok makes an appearance in Zaku. | 1 |
| | Wetrix | | The comic Plok: The Exploding Man features elements from Wetrix. | 1 |
| | Magnetic Billiards | | The comic Plok: The Exploding Man features references to Magnetic Billiards. | 2 |
| | Bubsy | | The comic Plok: The Exploding Man features references to Bubsy. | 2 |
| | Sonic | | The comic Plok: The Exploding Man features a reference to Sonic. | 2 |
| | Zub | | Commander Zob is a character in Plok: The Exploding Man; the character from the box art for the game also appears in page 119 of the comic. | 1 |
| | Star Trek | | The comic Plok: The Exploding Man features a reference to Star Trek. | 2 |
| | Candy Crush Saga | | The comic Plok: The Exploding Man features a reference to Candy Crush Saga. | 2 |
| | Rayman | | The comic Plok: The Exploding Man features references to Rayman. | 2 |
| | Super Smash Bros. | | The comic Plok: The Exploding Man features a reference to Super Smash Bros. | 2 |
| | Zelda | | The comic Plok: The Exploding Man features references to Zelda. | 2 |
| | Punch-Out!! | | The comic Plok: The Exploding Man features a reference to Punch-Out!! | 3 |
| | Minecraft | | The comic Plok: The Exploding Man features a reference to Minecraft. | 2 |
| | Final Fantasy | | The comic Plok: The Exploding Man features a reference to Final Fantasy VII. | 2 |
| | Fallout | | The comic Plok: The Exploding Man features a reference to Pip-Boy. | 2 |
| | Shenmue | | The comic Plok: The Exploding Man features a reference to Shenmue. | 2 |
| | Jetman | | The comic Plok: The Exploding Man features a reference to Solar Jetman. | 2 |
| | Ace Attorney | | The comic Plok: The Exploding Man features a reference to Ace Attorney. | 3 |
| | No Man's Sky | | The comic Plok: The Exploding Man features a reference to No Man's Sky. | 3 |