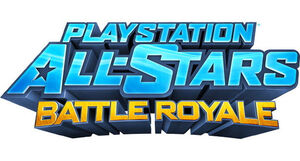 For detailed information about this series, see: PlayStation All-Stars Wiki
PlayStation All-Stars Battle Royale is a fighting video game published by Sony for the PlayStation 3 and PlayStation Vita and released on November 8, 2012.
It features playable characters from various PlayStation series, including first-party as well as third-party video game series that were released for PlayStation consoles. Also, each arena is based on two different series "mashed" together.
Links to other series
| Direction | Series | Date | Description | Type |
| --- | --- | --- | --- | --- |
| | Super Smash Bros. | | PlayStation All-Stars Battle Royale is partially inspired by Super Smash Bros. | 3 |
| | BioShock | | PlayStation All-Stars Battle Royale features Big Daddy from BioShock as a playable character. | 1 |
| | InFamous | | PlayStation All-Stars Battle Royale features Cole and Evil Cole from the InFamous series as playable characters. | 1 |
| | Killzone | | PlayStation All-Stars Battle Royale features Colonel Radec from Killzone as a playable character. | 1 |
| | Devil May Cry | | PlayStation All-Stars Battle Royale features Dante from DmC: Devil May Cry as a playable character and was originally planned to appear the original Dante but was scrapped. | 1 |
| | Fat Princess | | PlayStation All-Stars Battle Royale features the Fat Princess as a playable character. | 1 |
| | Tekken | | PlayStation All-Stars Battle Royale features Heihachi from Tekken as a playable character. | 1 |
| | Jak and Daxter | | PlayStation All-Stars Battle Royale features Jak and Daxter as a single playable character. | 1 |
| | God of War | | PlayStation All-Stars Battle Royale features Kratos from God of War as a playable character. | 1 |
| | Heavenly Sword | | PlayStation All-Stars Battle Royale features Nariko from Heavenly Sword as a playable character. | 1 |
| | Uncharted | | PlayStation All-Stars Battle Royale features Nathan Drake from Uncharted as a playable character. | 1 |
| | PaRappa the Rapper | | PlayStation All-Stars Battle Royale features Parappa as a playable character. | 1 |
| | Metal Gear | | PlayStation All-Stars Battle Royale features Raiden from the Metal Gear series as a playable character. The game was also supposed to feature Solid Snake from Metal Gear as a downloadable character. | 1 |
| | Ratchet & Clank | | PlayStation All-Stars Battle Royale features Ratchet and Clank as a single playable character and Dr.Nefarious was considered to Playstation All Stars Battle Royale. | 1 |
| | LittleBigPlanet | | PlayStation All-Stars Battle Royale features Sackboy from LittleBigPlanet as a playable character. | 1 |
| | MediEvil | | PlayStation All-Stars Battle Royale features Sir Daniel Fortesque from MediEvil as a playable character. | 1 |
| | Sly Cooper | | PlayStation All-Stars Battle Royale features Sly Cooper as a playable character. | 1 |
| | Ape Escape | | PlayStation All-Stars Battle Royale features Spike from Ape Escape as a playable character. | 1 |
| | Twisted Metal | | PlayStation All-Stars Battle Royale features Sweet Tooth from Twisted Metal as a playable character. | 1 |
| | Doko Demo Issyo | | PlayStation All-Stars Battle Royale features Toro from Doko Demo Issyo as a playable character. | 1 |
| | Buzz! | | PlayStation All-Stars Battle Royale features a secondary representation arena partially based on Buzz! | 1 |
| | Terminator | | PlayStation All-Stars Battle Royale features a Buzz! Question on what's not a Metal Gear. The answer is T-800 which is a reference to something in Terminator. | 3 |
| | LocoRoco | | PlayStation All-Stars Battle Royale features an arena based on LocoRoco. | 1 |
| | Patapon | | PlayStation All-Stars Battle Royale features a secondary representation based on Patapon. | 1 |
| | Everybody's Golf | | PlayStation All-Stars Battle Royale features a secondary representation based on Everybody's Golf. | 1 |
| | Resistance (Sony) | | PlayStation All-Stars Battle Royale features an arena based on Resistance. | 1 |
| | Carnival Island | | PlayStation All-Stars Battle Royale features minions from Carnival Island. | 1 |
| | ModNation Racers | | PlayStation All-Stars Battle Royale features Tag as a minion. | 1 |
| | The Mark of Kri | | PlayStation All-Stars Battle Royale features Baumusu's Axe from The Mark of Kri as a usable item. | 1 |
| | Kula World | | PlayStation All-Stars Battle Royale features the Beach Ball from Kula World as a usable item. | 1 |
| | Wipeout | | PlayStation All-Stars Battle Royale features the Gravity Shield and Leach Beam from Wipeout as usable items. | 1 |
| | UmJammer Lammy | | PlayStation All-Stars Battle Royale features a costume for Parappa originally from UmJammer Lammy. | 1 |
| | Warhawk | | PlayStation All-Stars Battle Royale features Warhawk ships as secondary representation in Time Station. | 1 |
| | Starhawk | | PlayStation All-Stars Battle Royale features a costume for Sweet Tooth based originally from Starhawk. Also Emmet Graves appears as a downloadable character. | 1 |
| | Gravity Rush | | PlayStation All-Stars Battle Royale features Kat and Dusty from Gravity Rush as a downloadable character. | 1 |
| | Escape Plan (Game) | | PlayStation All-Stars Battle Royale features Lil from Escape Plan as a downloadable minion. | 1 |
| | Dead Space | | PlayStation All-Stars Battle Royale features Issac Clarke from Dead Space as a downloadable character. | 1 |
| | The Unfinished Swan | | Playstation All-Stars Battle Royale features the Swan as a secondary to the downloadable graveyard stage from Medievil. | 1 |
| | Oddworld | | PlayStation All-Stars Battle Royale was suppose to feature Abe from Oddworld as a downloadable character. | 1 |
| | Dragoon | | PlayStation All-Stars Battle Royale was suppose to feature Dart from The Legend of Dragoon as a downloadable character. | 1 |
| | Journey (game) | | Playstation All-Stars Battle Royale was suppose to show a downloadable stage for Gravity Rush and Journey as a secondary. | 1 |
| | Lair | | Playstation All-Stars Battle Royale was suppose to show a downloadable stage for Lair as a secondary. | 1 |
| | Final Fantasy | | PlayStation All-Stars Battle Royale was supposed to feature Lightning from Final Fantasy as a downloadable character. | 1 |
| | Tomb Raider | | PlayStation All-Stars Battle Royale was supposed to feature Lara Croft from Tomb Raider as a downloadable character. | 1 |
| | Shadow of the Colossus | | PlayStation All-Stars Battle Royale was supposed to feature Ico and Wander from Shadow of the Colossus as downloadables characters. | 1 |
| | Ty the Tasmanian Tiger | | PlayStation All-Stars Battle Royale was supposed to feature Ty from Ty the Tasmanian Tiger as downloadable character. | 1 |
| | Tomba! | | PlayStation All-Stars Battle Royale was supposed to feature Tomba from Tomba! as downloadable character. | 1 |
| | Crash Bandicoot | | PlayStation All-Stars Battle Royale was supposed to feature Crash Bandicoot from Crash Bandicoot as downloadable character. | 1 |
| | Spyro | | PlayStation All-Stars Battle Royale was supposed to feature Spyro the Dragon from Spyro as downloadable character. | 1 |
| | Blasto | | PlayStation All-Stars Battle Royale was supposed to feature Blasto from Blasto as downloadable character. | 1 |
| | The Mark of Kri | | PlayStation All-Stars Battle Royale was supposed to feature Rau Utu from The Mark of Kri as downloadable character. | 1 |
| | Folklore | | PlayStation All-Stars Battle Royale was supposed to feature Elen from Folklore as downloadable character. | 1 |