This page explains in detail the interactions between the Pink Panther series and the Street Fighter series.
Pink Panther and Pals episode Pinxillated
2010328 March 28, 2010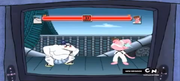 The first clip of the fourth episode of Pink Panther and Pals is about the Pink Panther playing various games in an arcade, while Big Nose tries not to make him win and the two eventually get sucked into the games. The episode features parodies to famous videogames, in detail Dance Dance Revolution, Pac-Man, Street Fighter II and Donkey Kong.
While in the Street Fighter-like game, the Pink Panther appears dressed as Ryu, also having his hairstyle and muscular body. Big Nose appears instead incarnating E. Honda, having the same phisique, hairstyle, facepaint, and wearing the same blue yukata, but he also wear sandals, something Honda doesn't have. The Pink Panther defeats his opponent by using the Hadouken, and then the Tatsumaki Senpukyaku. The background is also based on Ryu's stage from Street Fighter II.
License
Rubicon Studios and MGM Television, that produced Pink Panther and Pals held no right over Capcom's Street Fighter, but they only included a parody of it.