This page explains in detail the interactions between the Panel de Pon series and the Tetris series.
Tetris Attack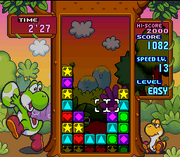 august 1996

Tetris Attack is a remake of Panel de Pon, featuring the same gameplay, but with its original characters and backgrounds redesigned using themes from the Yoshi series.
License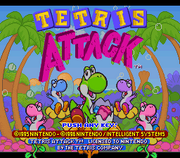 To create Tetris Attack, Nintendo simply remade Panel de Pon, taking from the Tetris Company (the current holder of Tetris' rights) the right to use Tetris' name.