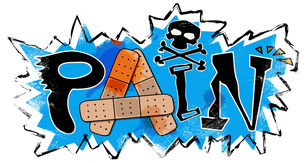 For detailed information about this series, see: Pain on Wikipedia
Pain is an action video game by Sony released as a downloadable title on November 29, 2007 for PlayStation 3.
Based on ragdoll physics, the gameplay consists in throwing the player's character with a giant slingshot, trying to damage the character and the enviroment as much as possible.
The game features various characters to chose from, including celebrities and guests from other series. Some characters were also added as DLC.
Links to other series
| Direction | Series | Date | Description | Type |
| --- | --- | --- | --- | --- |
| | Buzz! | | The Buzz! Host appears in the game Pain | 1 |
| | Jak and Daxter | | Daxter is a downloadable character in the game Pain | 1 |
| | Star Trek | | Pain includes a costume for George Takei based on Sulu from Star Trek. | 3 |
| | Elvira | | Elvira is a downloadable character in the game Pain | 1 |
| | Fat Princess | | Fat Princess is a downloadable character in the game Pain | 1 |