This page explains in detail the interactions between the Nintendogs series and the Zelda series.
Nintendogs + Cats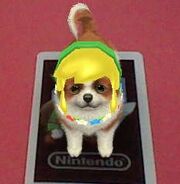 2011226 February 26, 2011

Nintendogs+Cats features AR Cards compatibility, and when using Link's card the dog appears wearing Link's hat, complete with part of his hair based on his "toon" incarnation.
License
Copyrights for both series are held by Nintendo.