For detailed information about this series, see: Nintendo Puzzle Collection at Nintendo Wiki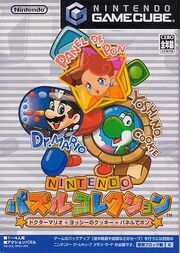 Nintendo Puzzle Collection is a Nintendo videogame released for the GameCube on February 7, 2003. It includes slightly enhanched versions of three classic Nintendo puzzle games: Dr. Mario, Yoshi's Cookie and Panel de Pon. The differences are:
Dr. Mario is actually a port of Dr. Mario 64, with all references to the Nintendo 64 removed.
Graphics and sound of Yoshi's Cookie and Panel de Pon were enhanced for the GameCube format.
A four player mode was added in Yoshi's Cookie and Panel de Pon.
The 3D mode from Pokémon Puzzle League was included in Panel de Pon.
Panel de Pon features some new characters.
Additionally, the original versions of the NES games can be played on a Game Boy Advance by connecting it to the GameCube.
Links to other series
| Direction | Series | Date | Description | Type |
| --- | --- | --- | --- | --- |
| | Mario | | Nintendo Puzzle Collection includes a remake of Dr. Mario. | 2 |
| | Yoshi | | Nintendo Puzzle Collection includes a remake of Yoshi's Cookie. | 2 |
| | Panel de Pon | | Nintendo Puzzle Collection includes a remake of Panel de Pon. | 2 |