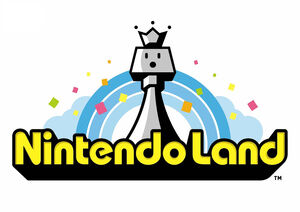 For detailed information about this series, see: Nintendo Land at Nintendo Wiki
Nintendo Land is a videogame created by Nintendo as a launch title for the Wii U console, and intended to demonstrate its functionalities. It was released on November 18, 2012, along with the console and boundled with it in all regions except Japan.
Much like the Wii games series, and specifically Wii Sports, Nintendo Land puts the player in control of the Miis and consists in various minigames. It takes place in a fictional Nintendo-themed park, with various attractions based on Nintendo franchises, each one corresponding to a minigame. These are:
Team attractions (players 1-5):
The Legend of Zelda: Battle Quest
Metroid Blast
Pikmin Adventure
Competitive attractions (players 2-5):
Mario Chase
Luigi's Ghost Mansion
Animal Crossing: Sweet Day
Solo attractions (1 player):
Takamaru's Ninja Castle
Donkey Kong's Crash Course
Captain Falcon's Twister Race
Balloon Trip Breeze
Yoshi's Fruit Cart
Octopus Dance
The only original character is the park's host, Monita, which is a female robot with a monitor for head. She also has an evil counterpart called Dark Monita appearing in Pikmin Adventure and Metroid Blast.
Links to other series
Note: every minigame in Nintendo Land is supposed to be a theme park attraction, so every element from other series is considered an imitation of the original one, therefore only creating a Sub-universe link with its series.
Mascot link: Miis are the main characters in Nintendo Land.
| Direction | Series | Date | Description | Type |
| --- | --- | --- | --- | --- |
| | Zelda | | Nintendo Land features a minigame based on the Zelda series. | 2 |
| | Metroid | | Nintendo Land features a minigame based on the Metroid series. | 2 |
| | Pikmin | | Nintendo Land features a minigame based on the Pikmin series. | 2 |
| | Mario | | Nintendo Land features a minigame based on the Mario series. | 2 |
| | Luigi | | Nintendo Land features a minigame based on Luigi's Mansion. | 2 |
| | Animal Crossing | | Nintendo Land features a minigame based on the Animal Crossing series. | 2 |
| | Donkey Kong | | Nintendo Land features a minigame based on Donkey Kong. | 2 |
| | F-Zero | | Nintendo Land features a minigame based on the F-Zero series. | 2 |
| | Balloon Fight | | Nintendo Land features a minigame based on Balloon Fight. | 2 |
| | Yoshi | | Nintendo Land features a minigame based on the Yoshi series. | 2 |
| | Octopus | | Nintendo Land features a minigame based on Octopus. | 2 |
| | Nazo no Murasame Jo | | Nintendo Land features a mini game based on Nazo no Murasame Jo. | 2 |
| | Super Smash Bros. | | Monita appears as a trophy in Super Smash Bros. for Wii U and then as a spirit in Super Smash Bros. Ultimate. | 1 |