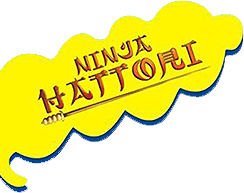 For detailed information about this series, see: Ninja Hattori Wiki
Ninja Hattori is a series created by Fujiko Fujio and owned by Fujiko-Pro. The manga was published by Shogakukan. There was an anime in 1981, and it was later remade in 2012 by Reliance MediaWorks and Shin-Ei Animation.
Links to other series
Commercial Link: Characters from the series appear in the Nickelodeon India Teacher's Day: Guru Cool commercial.
| Direction | Series | Date | Description | Type |
| --- | --- | --- | --- | --- |
| | Doraemon | | It's the '82 New Year! Doraemon ・ Kaibutsu-kun ・ Ninja Hattori-kun is a special that contains both series. UNDIRECT: Ninja Hattori eats New Year's Eve Noodles with Doraemon and Q-Taro in a promotional video. | 1 |
| | Little Ghost Q-Taro | | UNDIRECT: Ninja Hattori eats New Year's Eve Noodles with Doraemon and Q-Taro in a promotional video. | 1 |
| | Monster Kid | | It's the '82 New Year! Doraemon ・ Kaibutsu-kun ・ Ninja Hattori-kun is a special that contains both series. | 3 |
| | Asari-chan | | Hattori-kun and Asari-chan's Nursery Rhyme Record is a musical crossover between both series. | 1 |
| | Puzzle & Dragons | | As part of special collaboration events, Puzzle & Dragons featured a dungeon with creatures from Ninja Hattori. | 1 |