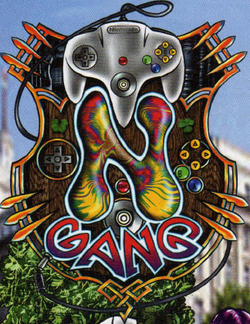 For detailed information about this series, see: N-Gang at Super Mario Wiki
N-Gang is a series of comic books published by Nintendo on the german Club Nintendo magazine. It lasted for 12 issues, from January 1999 to June 2000.
It follows the adventures of a group of teenagers, all Nintendo fans, and often guest-stars Nintendo characters.
Links to other series
| Direction | Series | Date | Description | Type |
| --- | --- | --- | --- | --- |
| | Turok | | A Hunter from Turok 2 is featured in the N-Gang episode "Cityhunter". | 1 |
| | Wario | | Wario appears in "Jagdszenen aus der unteren Oberstufe" and other N-Gang episodes. | 1 |
| | Donkey Kong | | Characters from the Donkey Kong series appear in "Freeze Frame" and other N-Gang episodes. | 1 |
| | Yoshi | | Yoshi appears in "Freeze Frame" and other N-Gang episodes. | 1 |
| | Zelda | | Link from the Zelda series appears in N-Gang episodes "Freeze Frame" and "Die Hexe lacht um Mitternacht". | 1 |
| | Kirby | | Kirby appears in N-Gang episodes "Freeze Frame" and "Die Hexe lacht um Mitternacht". | 1 |
| | Mario | | Characters from the Mario series appear in "Freeze Frame" and other N-Gang episodes. | 1 |
| | Banjo-Kazooie | | Characters from the Banjo-Kazooie series appear in "Freeze Frame" and other N-Gang episodes. | 1 |
| | Conker | | Conker appears in the N-Gang episode "Freeze Frame". | 1 |
| | F-Zero | | Captain Falcon appears in the N-Gang episode "Freeze Frame". | 1 |
| | Bomberman | | Bomberman appears in the N-Gang episode "Freeze Frame". | 1 |
| | Star Fox | | Fox McCloud appears in the N-Gang episode "Freeze Frame". | 1 |
| | Kid Icarus | | Pit from Kid Icarus appears in the N-Gang episode "Die Hexe lacht um Mitternacht". | 1 |
| | Metroid | | Samus from Metroid appears in the N-Gang episode "Die Hexe lacht um Mitternacht". | 1 |