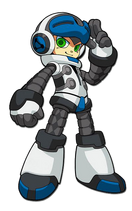 For more in formation see:Mighty No 9 wikia.
Mighty No 9 is a series by Inti Creates and Deep Silver.
Games
Mighty No 9(21 june 2016)for Nintendo WII U,Nintendo 3DS,Playstation 3,Playstation 4,Playstation Vita,Xbox 360,Xbox One,Microsoft Windows PC,Mac and Linux.
Might Gunvolt (August 20 2014), a crossover with Gal*Gun and Azure Striker Gunvolt for Nintendo 3DS, Playstation 4, Playstation Vita and PC.
Web Series
Mighty No 9 the animeted series(2016).
Link to Other Series
| Direction | Series | Date | Description | Type |
| --- | --- | --- | --- | --- |
| | Megaman | | Mighty No 9 is the spiritual successor of Megaman. | 2 |
| | Ninja Gaiden | | A skin of Beck from Mighty No. 9 is selectable in Yaiba: Ninja Gaiden Z. | 2 |
| | Azure Striker Gunvolt | | Mighty Gunvolt is a crossover between Azure Striker Gunvolt, Mighty No. 9, and Gal*Gun. | 1 |
| | Gal*Gun | | Mighty Gunvolt is a crossover between Azure Striker Gunvolt, Mighty No. 9, and Gal*Gun. | 1 |