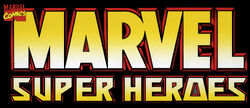 Marvel Super Heroes is a video game series of titles developed by Capcom under license from Marvel.
Video games
Marvel Super Heroes in War of the Gems (October 18, 1995). SNES. A beat-em up in the style of Final Fight.
Marvel Super Heroes (October 24, 1995). Later relesed for PlayStation and Sega Saturn. A fighting game. Included in the collection Marvel vs. Capcom Origins for PlayStation Network and Xbox Live Arcade.
Marvel Super Heroes vs. Street Fighter (June 18, 1997). Arcade. Later released for PlayStation and Sega Saturn. Officially the 2nd installment in the Marvel vs. Capcom series, in this wiki it is treated as a crossover title between this series and the Street Fighter series.
While there are several other works carrying the title of "Marvel Super Heroes", this page only lists those works developed by Capcom.
Links to other series
| Direction | Series | Date | Description | Type |
| --- | --- | --- | --- | --- |
| | Captain America | | Captain America appears in all games of the Marvel Super Heroes series. | 1 |
| | Hulk | | Hulk appears in all games of the Marvel Super Heroes series. | 1 |
| | Spider-Man | | Spider-Man appears in all games of the Marvel Super Heroes series. | 1 |
| | Wolverine | | Wolverine appears in all games of the Marvel Super Heroes series. | 1 |
| | X-Men | | X-Men characters appear in all games of the Marvel Super Heroes series. | 1 |
| | Iron Man | | Iron Man appears in all games of the Marvel Super Heroes series. | 1 |
| | Fantastic Four | | Dr. Doom appears in all games of the Marvel Super Heroes series, and a doppelganger of The Thing is an enemy in Marvel Super Heroes in War of the Gems. | 1 |
| | Blackheart | | Blackheart appears in all games of the Marvel Super Heroes series. | 1 |
| | Thanos | | Thanos appears in Marvel Super Heroes in War of the Gems and Marvel Super Heroes. | 1 |
| | Doctor Strange | | Doctor Strange makes a cameo in Marvel Super Heroes in War of the Gems. | 1 |
| | Daredevil (Marvel) | | A doppelganger of Daredevil is an enemy in Marvel Super Heroes in War of the Gems. | 1 |
| | Hawkeye | | A doppelganger of Hawkeye is an enemy in Marvel Super Heroes in War of the Gems. | 1 |
| | Darkstalkers | | Anita from Darkstalkers is a hidden selectable character in Marvel Super Heroes. | 1 |
| | Shuma-Gorath | | Shuma-Gorath is is playable in Marvel Super Heroes and Marvel Super Heroes vs. Street Fighter. | 1 |
| | Thor | | Thor makes a cameo in Marvel Super Heroes. | 1 |
| | Iron Fist | | Iron Fist makes a cameo in Marvel Super Heroes. | 1 |
| | Guardians of the Galaxy | | Drax the Destroyer from Guardians of the Galaxy makes a cameo in Marvel Super Heroes. | 1 |
| | Vulgus | | The Yashichi enemy from Vulgus appears as an attack in Japanese versions of Marvel Super Heroes. | 2 |
| | Street Fighter | | Marvel Super Heroes vs. Street Fighter is a crossover between the two series. | 1 |
| | Final Fight | | Cody and Jessica from Final Fight make a cameo appearance in Marvel Super Heroes vs. Street Fighter. | 1 |
| | Mega Man | | Marvel Super Heroes vs. Street Fighter features references to the Mega Man series. | 2 |
| | Ghosts 'n Goblins | | Marvel Super Heroes vs. Street Fighter features references to Arthur from the Ghosts 'n Goblins series. | 2 |
| | Captain Commando | | Marvel Super Heroes vs. Street Fighter features references to Captain Commando. | 2 |
| | Ghost Rider | | Marvel Super Heroes vs. Street Fighter features references to Ghost Rider. | 2 |
| | Marvel vs. Capcom | | The Marvel vs. Capcom series is a spin-off originated from Capcom's Marvel Super Heroes series. | 1 |