This page explains in detail the interactions between the Mario series and The Adventures of Willy Beamish series.
The Adventures of Willy Beamish
1991

Mario5

The Adventures of Willy Beamish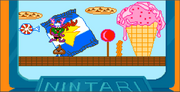 In The Adventures of Willy Beamish, the main character has a videogame console in his room called "Nintari" a spoof on Nintendo and Atari. While playing it, the game shows a clip of gameplay from the fictional "Monster Squad" game, that's about a team of three monsters fighting candy monsters in a candy-themed enviroment. One of the enemies is apparently an eyed drop of chocolate, thus resembling a Goomba from the Mario series. Like Super Mario games, Monster Squad is a sidescrolling platformer, but apart from this the gameplay seems different, with the player's character jumping to avoid enemies, rather than stomping them, and fighting using a carrot as a weapon.
In the Sega CD version of the game this clip was removed, being replaced with an actual minigame called Super Space K'Noidtrix.
License
The Adventures of Willy Beamish's company Sierra had no right over Nintendo's Mario, in fact they only included a minor reference to the Mario series.