This page explains in detail the interactions between the Mario series and the Ren & Stimpy series.
The Ren & Stimpy Show episode Stimpy's Big Day
19910811 August 11, 1991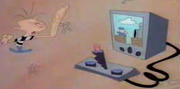 The first episode of The Ren & Stimpy Show begins with a fake commercial, showcasing a boy who is offered a bicycle, which he rejects. The boy is then offered a video game, which he also rejects. But when "Log" is offered to the boy, he graciously accepts. The video game, although only a still shot of it is shown for a few seconds, clearly resembles Super Mario Bros.
License
Ren & Stimpy's company Nickelodeon had no right over Nintendo's Mario, but they only featured a parody of the game.